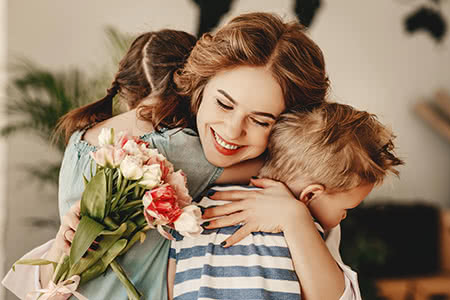 11 Budget-Friendly Mother's Day Gifts and Activities
Mother's Day 2021 is Sunday, May 9th, so now is the time to begin planning what you'll do to show your Mom and other special women in your life how much you love and appreciate them. There are always the standard ways to celebrate—flowers, brunch, and chocolate. But finances are still a concern for most Americans as the country gradually comes out of the pandemic. Showing your love and appreciation doesn't have to cost a fortune. One of the best gifts is free—your time. Check out these 11 budget-friendly Mother's Day gifts and activities that won't throw you off-course from your financial goals.
Budget-Friendly Gifts for Mom
1. Electric Smart Mug Warmer
Mom won't have to race to finish her favorite cup of tea or espresso. She can set the desired temperature, relax and sip slowly without worrying about it getting cold.
2. Jillian Michaels Fitness App
If that special woman in your life loves to exercise, the Jillian Michael Fitness app could be the perfect budget-friendly Mother's Day gift. She can customize a personal fitness and diet routine with this app available from the Apple store. There are more than 800 individualized plans to choose from.
3. Hydrating Sheet Mask Set
This is a perfect way for Mom to pamper herself, especially today when many salons are still closed. The masks come in green tea, cucumber, gold, and other varieties. Each facial mask contains collagen and vitamin E. You can buy a gift set of 16 mask sheets for under $10 on Amazon.
4. Flower Subscription
Maybe you were thinking of disrupting the Mother's Day flowers matrix, but if Mom loves flowers, you could gift her with a subscription to Bouqs. She'll get a fresh bouquet delivered to her door every month. This is one gift that keeps on giving the whole year.
5. Nordstrom Moonlight Pajamas
Mom will love these pajamas for sleep, evening relaxation, even Zooming. They're elegant, stylish, and super soft. Prices range between $49 to $65 at Nordstrom.
6. Eufy Robovac 11S
If you can afford it, gift your Mom a robot vacuum. She'll love it. The robot can take care of the daily pickup, leaving her with only a weekly thorough vacuuming. This model has received great reviews. Amazon carries the Eufy Robovac 11S for about $190.
7. Drew Barrymore's 6-quart Touchscreen Air Fryer
This fryer does everything—fries, roasts, dehydrates, and reheats. You can find it at Walmart for around $89.
8. Demeyere Stainless Steel Egg Poaching Pan
She can poach up to four eggs at a time or take out the egg cups and use the pan to melt butter, chocolate, and sauces. You can find it at Sur La Table or Bed Bath and Beyond for around $50.
9. Host a Mother's Day Brunch
Brunch has been synonymous with Mother's Day for decades. But with limited seating capacity and other pandemic-related issues, you might want to skip the brunch outing this year. Plus, it's expensive. You can still deliver the brunch experience by hosting your Mom at your place or hers. Invite all the family. Ask adult family members to contribute a dish. Mom will love the chance to celebrate with everyone. Be sure to take videos she can post to her social media channels or even livestream to friends and family members who live far away.
Budget-Friendly Mother's Day Activities
10. Go for an Outing
Almost everyone appreciates spending time in nature, especially today when we've been stuck inside for so long. Exploring the outdoors is one of the best budget-friendly Mother's Day activities. Surprise her and find a hiking trail she hasn't explored yet. Pack a picnic with all of your Mom's favorites foods and beverages.
11. Take a Virtual Art Class
If Mom is an artist, schedule a virtual art class in the medium she enjoys. There are tons of virtual art classes on the internet today, such as Skillshare, Craftsy, or Paint & Sip Live. There's always YouTube too. Take the course with her and enjoy the opportunity to create something beautiful together.