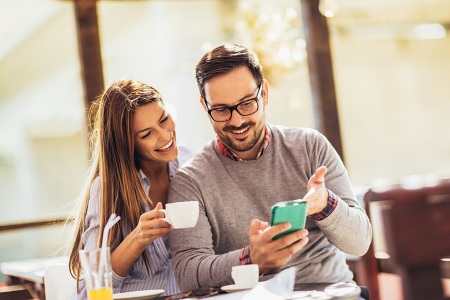 4 Helpful Budget Apps for Couples
Going from single life to life as a couple brings a lot of changes and challenges. Perhaps the area most likely to cause strife in a new couple is finances. It can be tough enough to set and stick to a budget as a single person but when dealing with combined incomes and bills it can be nearly impossible. Thankfully, there are numerous apps that can help the two of you navigate the world of couple's financing without it causing a breakup before you even had a chance to unpack.
The best of these budget apps not only let you define both the long and short term financial goals but also provide transparency so that both of you can see where the money is going. No misunderstandings, no confusion, the information is all laid out clearly and concisely for both to see. These 4 apps may put you on the path to relationship harmony and financial security.
Honeyfi
Specifically designed for use by couples, Honeyfi not only helps to plan and enact budgets, it also provides you with an FDIC insured savings accounts. Once a budget has been established and saving goals, both long and short term, set, the app will help you decide on the appropriate weekly or monthly contributions to achieve each savings goal.  Honeyfi automatically transfers the amount from your checking account into each of the goal accounts making saving money effortless. This app is free for 30 days and then costs only $60 per year for an annual membership or $9.99 per month if you choose to go month to month.
Tiller Money
Tiller Money makes it easy for both partners to link all of their sources of income, credit card and bank accounts and all bills in one tidy spreadsheet that updates daily.  Through it, couples can create monthly and yearly budgets using premade templates and utilities. You can also create your own dashboard to track things like your debt, net worth, and savings. Try it free for 30 days. After the trial, the cost is $79 per year.
Digit
Digit brings the tracking technology your phone already uses to your budget. Once linked to your bank account, Digit learns your spending habits and reliably predicts how much you are likely to spend each month. Taking into account your spending habits, monthly bills and income, it lets you know how much you should be able to put into savings each month. It offers a 30 day free trial and an affordable $2.99 a month after that.
Honeydue
Honeydue is a free app, although they do ask for donations, and so may not offer all the bells and whistles of the pay apps. It is, however, still a very effective way for couples to create and implement a budget, and it does create a joint savings account for them.
Obviously, none of these apps will help you and your partner decide on what your long and short term budgetary goals should be. If the two of you can get past that hurdle, any of them can help you to work towards being more secure financially for now and in the years to come.