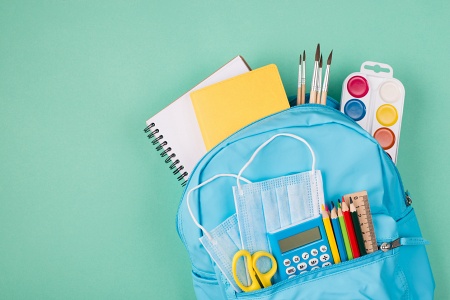 5 Financial Tips for the Back-to-School Season
Yes, summer vacation is speeding by, and before you know it, the kids will be back in school. So now is an excellent time to share a few essential financial tips for the back-to-school season.
During this time of the year, it's easy to spend much more than you can afford, especially when dealing with FOMO and other expectations from your kids. Between clothing, electronics, and school supplies, you can quickly destroy your budget.
In addition, this year, you may face the reality of hybrid instruction or the need to purchase additional items to make a safe in-person instruction environment. This hybrid reality extends to your favorite retailers too. Some offer special discounts when you buy online or if you pick the items up at the store. So, here are five financial tips for the back-to-school season to save you from stress and debt.
1. Make A List And Stick To It
Making a shopping list may be the most important financial tip to help you get through the back-to-school season without going into debt.
Inventory what you already have in your home.
Make it fun by asking your kids to check their closets, drawers, pantry, and anywhere else that you and they may have stuffed leftover school supplies. Then, compare what you have on-hand with what the kids need this season.
Make a complete list of all items you need to purchase along with a budget.
Avoid the trends and stick to the basics. Your kids may want stuff they see on the TV, but they don't need everything to be a themed item. Some supplies may have more flexibility (they can wait until later in the year when there are sales). Still, the important thing is to create the list and a budget and stick to it when you start shopping.
2. Shop At Second-Hand Stores
Some of the items your kids need don't have to be new; you can purchase them from a second-hand retailer, such as Goodwill, or online sites like e-Bay and Depop. Alternatively, go to your digital network and see who has extra supplies or clothing items.
3. Follow the Social Media Accounts of Your Favorite Retailers
If you're not already following the social media accounts of your favorite retailers, you could be missing out on special sales. For instance, Walmart, Target, and TJ Maxx often post online deals and coupons that will save you money on the items you need for the back-to-school season.
4. Ask for Student Discounts
Grabbing student discounts is one of our top financial tips for the back-to-school season. Before purchasing computers and other digital devices, ask the retailer if they offer a student discount. For example, retailers like Apple and Best Buy provide student discounts to save you as much as 20% on those big-ticket technology items.
5. Be Careful When Shopping Online
The pandemic accelerated the development of e-commerce technologies, which means that most of your favorite retailers probably went online. So even though many retailers have reopened their bricks-and-mortar sites, you might decide to stick with online shopping.
Be careful of online shopping scams, especially the promos you see on your social media platforms.
Look for an authentic URL that starts with "HTTPS" and includes a lock symbol.
Do your research before purchasing from an unknown online merchant, such as checking for consumer reviews and other feedback from its customers.
Be sure the retailer's contact information is visible, including address and phone number.
Only pay with your credit card, not a gift card.
Bottom Line
The back-to-school shopping season is more considerable for many retailers than the holiday season. With these five financial tips, you'll be prepared to take advantage of savings and end the season with money in your budget.