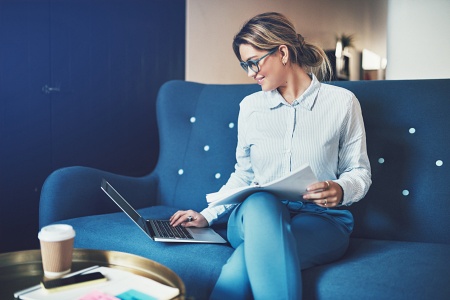 5 Ideas for Your Creative and Successful Home Based Businesses
Are you thinking of creating a home-based business to use as a side-gig or as a way to make extra money? Here are five great ones that use your talents and do not require permits or certifications. They might require a bit of money in the beginning. Each one of these can be done by anyone if you have a bit of creativity.
Business #1: Reseller
You are selling stuff on eBay, Amazon, Facebook Local, and many other places to make money. The skills you need include writing product descriptions, taking clear photographs, and understanding shipping requirements.
Equipment that is best to have to be successful include: mailers or boxes for the items, a postage scale, a printer for creating labels, label sticker paper, and a postage shipper like Pirate Ship. You also need an internet connection, profiles for eBay, Amazon, Facebook, or other online companies to do your reselling. Other online resellers include Poshmark, Mercari, Nextdoor, Decluttr, OfferUp, and Cash4 Books.
Business #2: Creator
You have gotten compliments galore on your earrings or cutting boards, the items that you made for yourself or gave to your friends. People come up to you and say where did you get that, or where can I buy one (or more!). This is the sign that you could make more and sell to others.
In the beginning, this job will require research into your creative outlet to find if it is a worthwhile idea. While there are many people selling jewelry, maybe you repurpose old beads or create custom new colors that make your products more unique. The best places to research demand include eBay (check their sold items), Etsy (check their top-selling items), and Amazon Handmade searches.
Where you research will become the best places to sell your items. You might also want to check local and consignment shops, galleries, and craft shows or fairs. Once you start selling, you will have to deal with the sales tax. Some companies put it into the price for you and report it after it sells but not all do. Then follow the steps of a reseller.
Business #3: Photographer
People love following your Instagram for its unusual and beautiful photographs. They are always wanting to see more or asking how you took that shot. You can parlay that talent into different business avenues. These avenues depend on how much time you want to spend online rather than creating your photographs. 
You could do wedding photography or children's portraits if you are gregarious, patient, and persuasive. If you take pictures of landscapes, nature, or animals, then working with a company that prints on-demand like ArtPal.com might be a better option. You might decide to put those photographs onto t-shirts and phone cases, which require a different avenue to take such as Zazzle, Redbubble, or Cafe Press.
Business #4: Graphic Artist
A graphic artist usually goes to school to learn different techniques and arts, however, there are several online classes you can take as well. There are so many ways that you can use those skills and are similar to a photographer. However, as a graphic artist, you can go even further.
You can make logos and graphics for companies, sell digital artwork and printable items to clients. You can manipulate the pictures of a photographer and make them pop on social media, websites, or blogs. Your sense of colors and design work well together, which allows you to help others with their branding. You can work online and send your work without having to leave the house.
Business #5: Business Coach
This business is probably the craftiest of them all. You have to use all of your skills that you see of the other businesses and put them together into this one. You have an online presence and people continually ask for advice from you.
You already have the skills from your social media, writing, and photography to know the ins and outs of creating a business. You work well with people that are under stress and overworked. You know that your service would work well in your area. Becoming part of the Chamber of Commerce, Better Business Bureau, and establishing yourself as an LLC are steps you plan to make before launching your home-based coaching business.
There you have it, five successful businesses that you could start at home, with little outlay of cash, some skills, and a great quantity of creativity.