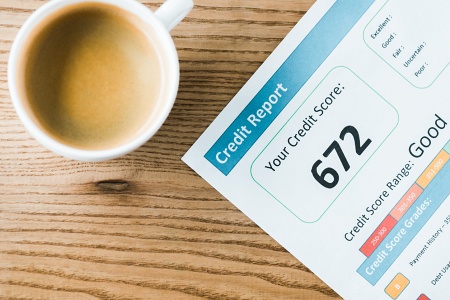 5 Things to Look for When You Review Your Credit Report
Reviewing your credit report is critical to your financial health. A good credit score earns you the best terms when applying for a credit card, mortgage, or personal loan. A poor credit score costs you money in higher interest rates and fees. It can also cost you your dream job or apartment. Therefore, you want to be sure that your credit score is a true reflection of your money habits.
You're entitled to one free report each year from each of the three credit reporting agencies. This means you can check your credit history three times a year at no cost. You can order copies through AnnualCreditReport.com. Spreading it out over the year allows you to stay current and catch any mistakes closer to when they happen. But, if you think you might be a victim of identity theft, ordering all three reports at once would be better.
Here are five things to look for when you review your credit report.
1. Confirm your personal information.
Does the report show your correct name, address, phone number, and social security number?
Is your named spelled correctly? Significant errors in the spelling of your name or address could reflect sloppy data entry, or it could be due to fraudulent behavior. Pay careful attention, and if you find errors, contact the reporting agency and let them know.
Is the birthdate listed correctly?
What about your employment information? If you're currently employed, does the report reflect this?
2. Carefully review each credit account listed.
Each account should include information about the credit limit or loan amount, the date you opened the account, any balance, and your payment history.
Do all the accounts listed belong to you? Are there any duplicates?
Are you listed as an owner on an account when you are only an authorized user?
If divorced, make sure that you are not listed as a joint owner on accounts you held previously but no longer own.
Are any showing up as "open," even though you closed them?
Check the credit limit and loan amounts. Is this correct?
Look for past due or default labels. If you're current with all your bills, your report should reflect an on-time payment history.
Be sure that any negative statuses you repaired, such as late payments, settlements, or defaults, have been removed.
3. Unfamiliar Inquiries
Hard pulls of your credit report can pull down your score. Therefore, you want to be careful about applying for too many credit cards within a short time.
Check your report for hard pulls by unknown companies. It might indicate fraud or that someone is applying for credit in your name.
4. Review Your Public Records Section
Bankruptcy and settlements typically remain on your credit report for seven or ten years, depending on the nature of the process. These actions may not prevent you from getting credit, but they do impact the terms.
Check the public records section of your credit report for any bankruptcies, settlements, or lawsuits to which you were not a party.
5. Are All Collections Actions Correct?
Are there any accounts showing as in collections, such as hospital and other medical bills, mobile phone carriers, retail stores? If you co-signed on a loan or credit card, but the primary user has fallen behind on the payments, collection action will show up on your credit report too.
Does anything look unfamiliar?
Is all the information accurate?
Bottom Line
If you find errors on your credit report, contact the reporting agency right away.
If you were a fraud victim, you want to close down all access to your credit identity quickly.
Make a detailed list of all errors and submit your dispute by mail or online.
Each reporting agency provides specific instructions and links for disputing errors.
Follow up to be sure that all errors have been corrected.