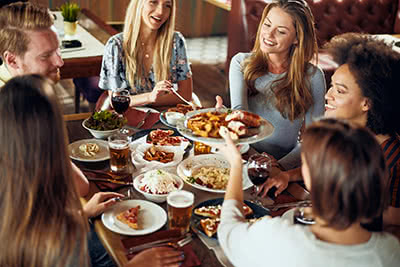 5 Ways to Entertain on a Budget
Entertaining while on a budget can seem like a daunting task, although it doesn't have to be! There are plenty of ways to have fun without going over one's budget, while still ensuring that you and your guests have a wonderful experience. All it takes to entertain while on a budget is a little creativity; so, here are a few great tips to keep in mind for the next time that you're entertaining.
Throw a Potluck
What better way to entertain in your own home than by hosting a potluck? Ask that your guests bring a dish to share. You could plan ahead so you know what people will be bringing, or you could allow your guests to bring a dish of their choice. Not only will you be saving money this way, but you'll also be saving yourself time because you won't be prepping and cooking various dishes to feed everyone yourself.
Host a Game Night
The sky is the limit here—it all depends on what you and your guests prefer. Board games, card games, improv, the list goes on… Additionally, you don't have to spend money on games that you don't have. Reach out to your guests and see what everyone is in the mood for or ask that everyone bring their favorite game to play. Use that creativity we mentioned earlier. Your only requirement here is to have fun!
Have a BBQ
A barbecue with friends and family does not have to be expensive. Generally speaking, purchasing the meat is the most expensive part of a barbecue; however, there are plenty of cheaper choices of meat available, such as hot dogs, sausage, and homemade kebabs. You could ask your guests to contribute, perhaps by bringing a side dish and bringing their own alcoholic beverages. You could even ask everyone to bring their own meat. There are plenty of options for hosting an inexpensive barbecue. Sitting outside with good company and a beverage in hand is a simple yet fun way to entertain while on a budget.
Go on a Picnic
When going out to a restaurant just isn't in the budget, or you don't feel like hosting in your home, go out for a picnic! Pack a variety of foods to snack on or prepare a wholesome meal; once again, you and your friends could bring food to share or offer to take turns in the food preparation. Do whatever works best for you. This is an excellent way to enjoy some fresh air while staying within your budget. Grab a blanket to lounge on and head for the outdoors.
Have a Movie Night
This is exactly as it sounds, without the added expenses of going to a movie theater. Ask your guests to bring their favorite movies, or browse through what you have on hand. Make some popcorn, open a few bottles of wine, and you've got yourself a fun, relaxing night in with friends!
All in all, it doesn't take an endless budget to become the "hostess with the mostess." It is possible to entertain frugally without compromising on having fun.