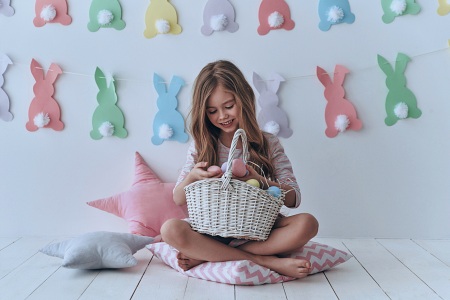 6 Budget-Friendly Easter Basket Ideas
Buying food, gifts, decorations, and treats for your Easter baskets takes time and can be expensive. According to the National Retail Federation, Americans spent on average $152 per person in 2017. Getting started now will make it easier on your budget.
With less than two weeks to go before Easter, most supermarkets, drug stores, and big-box stores have sales on everything you need. Grab their flyers and shop around for the best prices. Shopping online will help you build a budget-friendly Easter basket too. And if you use shopping apps, you'll be sure to find the best coupons and deals.
Here are six budget-friendly Easter basket ideas to help you save money so you can enjoy the holiday without financial stress.
1. Recycle From Last Year
If you saved your Easter baskets from last year, you don't need to buy new ones. No one pays so much attention to the outside, especially with a giant chocolate bunny sitting inside. Gather up all the baskets you can find and check their condition. Assuming they're in good shape, you can cross these items off your shopping list.
2. Make Your Own Easter Baskets
You don't have to stick with tradition. Visit your local arts & crafts store and look for containers you can use to make a unique Easter basket. For instance, many of the crafts stores stock decorative pots for artificial flower displays. You could fill these flower pots with confetti, eggs, candy, gifts, and other Easter delights. If you have children, buy materials to make baskets from scratch. You can easily make budget-friendly Easter baskets and have fun too.
3. Buy Candy in Bulk
Easter candy is one of those traditions you probably don't want to skip, but you might want to think about how much sugar high you can tolerate. Remember, it takes a while to wear off. Buying candy in bulk is a budget-friendly way to dole out everyone's favorite sweets. Buy small sachets and fill them with candy eggs, jelly beans, and other sugar-filled treats.
4. Fill Your Easter Baskets With Non-Candy Treats
Okay, you might not get away with skipping the candy treats altogether, but you can limit it. Filling the baskets with toys, stuffed animals, activity books, crayons and markers, stickers, storybooks for the older ones, and games might make them forget all about the candy.
Amazon has tons of Easter basket filler ideas that are sugar-free. For instance, PAW Patrol Finger puppets, based on Nickelodeon characters, are an excellent idea for the little ones. Teen daughters will appreciate the Unicorn Bath Bomb. Everything is under $20 on Amazon.com.
5. Skip the Egg Dye Kits
You might have more color choices with the egg dye kits, but you'll save money by making the dye yourself. All you need is water, food coloring, and vinegar. Mix the food coloring to get different shades. Play around with designs and mosaics.
6. Save Time and Money With Ready-Made Easter Baskets
While it's much more fun to make your own Easter baskets, you can save time and money by purchasing ready-made Easter Baskets on Amazon. The site offers 25 customizable, pre-made Easter baskets for all ages—infants to college kids. Ordering from Amazon is particularly helpful if you live in a state where there are still restrictions on gatherings. Once ordered, Amazon will ship your Easter baskets to their recipients. Most Easter baskets are priced around $35-$40, although there are some for as little as $20. For someone special, you might want to get the Spa-themed Easter basket or family brunch, which costs around $60-$70.
Bottom Line
Today, just about everyone is looking for ways to save money. These budget-friendly Easter basket ideas will save money and make your baskets unique. Making gifts always shows that you put thought and love into them. And for this, there is no price.