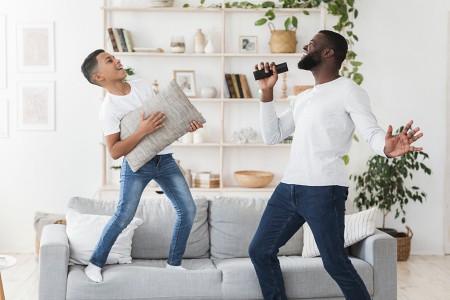 6 Creative and Fun Ideas to Celebrate Father's Day
If you don't want to have another barbecue this Father's Day, then there are more creative ways you can celebrate your dad. One idea would be to have a family game night. Take out all of the traditional board games, such as Scrabble, Monopoly, UNO, and Clue.  Prepare your dad's favorite snacks and put his favorite songs on your computer. Another idea would be for all of the kids to each interview their dad.One child can ask his dad about his childhood while the other child might ask about how his dad entered his career. Have the kids take notes, and then you can create a book about their dad's life using a blank journal. Attach pictures of their dad to certain blank pages. Here are other ideas for celebrating Father's Day.
Gift Scavenger Hunt
Another idea would be to hold a scavenger hunt throughout the house where the dad will need to search in every room for his Father's Day presents. You'll provide clues but not give away too many details regarding where he can find his gifts. Once he finds all of his gifts, he'll open them in front of everyone.
Youtube Greetings
If your teens have their own phones, have them record a Youtube video thanking their dad for his love and support over the years.  Each of the kids can discuss specific memories that they have of him and why they treasure them. In the video, you can include old pictures of your husband with the family from outings, family vacations, and holidays.
Family Sing A Long
If your husband and kids are all great singers, host a sing-a-long for Father's Day. Invite some extended family members who can sing well to the home. Let your husband pick out the songs and have him teach them to the kids a few days before the sing-a-long. Send videos of the song to the relatives with lyrics so they can practice too. This is a neat family bonding activity.
Morning Coffee Tasting
Another idea would be to select a few specialty coffees and let your kids help you prepare them so that your husband can enjoy a coffee tasting after his breakfast. This is a good way of introducing new coffees to him. Serve his favorite pastries or fruits with the coffees.  
Play Basketball Together
If your husband and kids enjoy basketball, you can host a basketball contest where your husband will compete against the kids for a small prize. The prize can be a gift card, a special dessert, a day off from chores, or a handmade gift from you.
Video Game Marathon
If your husband loves video games, then he and the kids can have an afternoon of video game action.  The kids can dress up as their favorite video game characters and your husband will do the same thing.  Decorate the basement with video game-themed banners and posters. Put out a table and drape it with a video game-themed tablecloth. Have the kids take breaks in between games to answer trivia questions about video games.
These activities will provide you with an amazing Father's Day.