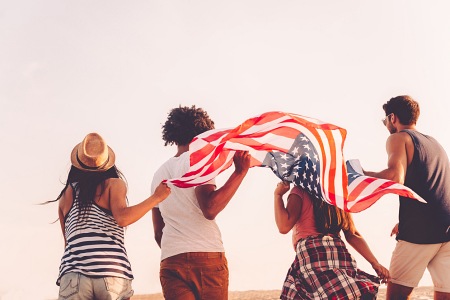 6 Fun (and Affordable) 4th of July Activities
As Americans, one of our favorite holidays is the 4th of July. You'll easily spot fireworks being sold everywhere you go and an increase in hamburger meat in the freezer section of your grocery store. Whether you spend it with your family or make it a big gathering, here are some ideas on how to spend your 4th of July this year that won't break your wallet.
1. Beach/Pool
The beach and the pool can always be a great way to spend the holidays. Whether you spend the whole day or just a short while there, both can be a fun and affordable way to celebrate the 4th of July. Bring snacks and drinks to keep your budget low. Peanut butter and jelly or ham and cheese sandwiches can be filling, especially after a long day of being in the sun. If you plan to go to either or with young children, go earlier in the day (before 11 am) or later in the evening (after 3pm) to have a less intense sun.
2. Barbecue/Potluck
There's no better way to show American pride on Independence Day than with a barbecue. Barbecues can also be very budget friendly. You can always ask different guests to contribute in some way by bringing foods, snacks, or drinks. If you don't have a barbecue, don't worry. You can still celebrate with family and friends and make the event a potluck.
3. Downtown
If you live in the city or near one, you will typically find that downtown areas will be filled with events or activities on the 4th of July. Search online and see what your city might have planned for the day. Wear comfortable shoes and plan to walk around a whole lot.
4. Park
Parks are also a great way to celebrate with family and friends. Larger or more popular parks may even plan to have a firework display in the evening. Bring blankets or chairs to be able to sit back and relax while you wait for the show. This can be a great and safe way to celebrate for families with young children.
5. Fireworks
Whether you stay at home or spend the day out and about, the highlight of the 4th of July is always the fireworks. If you want to spend the holiday without the crowds, you can always purchase some fireworks and celebrate in your yard. Sparklers and poppers are relatively cheap and can be an exciting activity for children. If you decide to set up fireworks, make sure you use safety precautions.
6. Movie Night
If you or someone you know is afraid of fireworks, then plan a movie night as a distraction from the sounds. Watch patriotic movies to keep with the theme of Independence Day. You can purchase budget-friendly snacks, such as popcorn, candies, and ice cream to keep the evening exciting.
Independence Day is a great way to bring family and friends together. Having a good time doesn't have to cost a fortune. Discuss with your group what ideas might appeal to you the most and how you could split the cost to make it a great holiday for everyone.