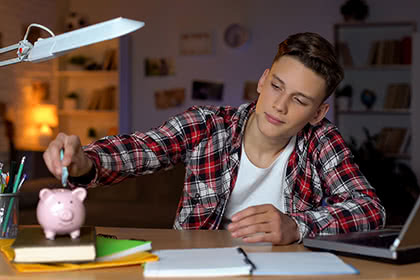 7 Ways to Make Money as a Teenager
Ryan Kaji has raked in almost $30 million from his YouTube channel. He has more than 40 million subscribers who tune in to his reviews of toys, family outings, and science experiments. He was recently featured on Forbes and was named the highest-earning YouTube star of 2020. Ryan Kaji is nine years old. Not everyone will experience Kaji's success, but there are some reliable ways to make money as a teenager. Here are 7 to get you started with your planning.
1. Social Media Influencer
One of the top ways to make a lot of money as a teenager is as a social media influencer. What does it take? You need to have personality, a following, and the ability to create engaging content. What you post must be authentic, so your followers trust you. Contracts are required, so parents should be fully involved in the process. Like everything, it takes work. Find a niche, something you love and don't mind talking about on your channel. Pick a social media platform, YouTube is one of the largest, but it might be better to break out on a newer channel such as TikTok or Snapchat. Start building followers, which will happen if you create high-quality, engaging content. When you're ready, add a note to your bio that you're open for collaboration, and start contacting brands you like.
2. Food Delivery
Usually, a list like this would include working in a restaurant, which has been a mainstay job for teens for decades. Today, with restaurants offering limited seating, delivery, or take-out only, you won't be able to make as much money as you could pre-COVID-19. On the flip side, a new opportunity has opened--food delivery. You need a car and a driver's license. Delivery people get an hourly wage, plus tips from satisfied customers.
3. Online Surveys
Completing online surveys is an easy job. The pay depends on how much time you put into it. There are scams out there, so you need to be careful. Survey Junkie, and Swagbucks, for instance, are legitimate sites. You can complete online surveys between Facebooking or watching the latest posts on TikTok.
4. Tutoring
Many parents look for tutors to help their children master difficult subjects. If you have excellent grades, especially in science and math, you should have little trouble finding a job as a tutor. You set your rates and schedule and get paid at the end of each session. Word of mouth is the best way to market your tutor business. But you can also put up notes on community boards, such as the grocery store, and use your digital network.
5. Yard Work
If you live in the suburbs, there's always plenty of yard work to be done. You'll have year-round employment. Check out the NextDoor app to locate people nearby looking for yard help. Make your prices competitive, and you'll quickly become a favored vendor.
6. English As a Second Language (ESL)
You don't have to speak the language of your students to be an ESL teacher. If you like to teach and look forward to meeting people from different cultures, ESL could be a great way to make money as a teenager. You can teach through online ESL platforms or market yourself.
7. Blogging
Do you like to write? Find something that teens are interested in and start blogging. Or you can make it a personal blog about your daily challenges. Build a following and then monetize your blog. It takes time, like building a following on social media. But once you're up and running, you can monetize by running ads or doing affiliate marketing.
Bottom Line
There are lots of ways to make money as a teenager. How much you earn depends on your commitment and persistence. Always carefully check out online sites and involve your parents in all social media influencer projects.