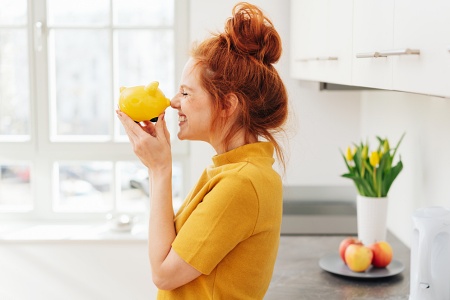 8 Money-Saving Challenges You Should Try
Viral internet challenges such as "see a dog send a dog" and the "toilet paper challenge" helped many people stay sane as they struggled to survive quarantines. Challenges seem to give us that extra bit of incentive to reach a goal, including saving money. You know you need to save. You made it a priority in your budget, but still, you fall short. It's not because you aren't committed to saving for emergencies and retirement. You just haven't established the habit yet. You might want to try one of these money-saving challenges. You'll have fun while building up your money-saving muscles.
1. Keep All the Change Challenge
This is a pretty easy challenge. Whenever you buy something with cash, take all the change and put it in a jar. Don't spend it. Alternatively, you can do the challenge digitally—download Acorn. The platform rounds up the amount you spend and moves the difference to a diversified investment account for you.
2. Pantry Challenge
The pantry challenge could take a bit more adjusting. It goes like this: you don't buy any new groceries and other food items until you have used up everything from your refrigerator and pantry. Not only is this a money-saving challenge, but you'll also learn how to be creative with what you have on hand. And, you'll throw away a lot less food.
3. No Spend Challenge
This is one of the most popular challenges right now. There's no set time for the challenge—it's up to you. Start with a week, maybe or a month, if you feel ready. During this time, you don't spend any money on anything outside your basic living expenses, such as housing, gas, and groceries. This means no new clothes, dinner out, or meeting friends at the coffee house. You skip all those "amazing" sales on household items from Target.
4. 52-Week Money Challenge Backwards
Unlike the typical 52-week challenge where you start with $1 and work upwards, you start with $52 and work down in this challenge. Week 2, you save $51, week 3 $50, and so forth. The challenge gets easier as you go. When you finish, you'll have $1,378 to spend on necessities or deposit into your emergency savings account.
5. $1 Bill Save
Here is another non-digital way to save money. Every time you get a dollar bill back in change put it into an envelope or large jar. At the end of the year, you'll be surprised at how much you have saved.
6. Expense Tracking Challenge
Tracking your money is one of the key ways to increase your savings. This money-saving challenge requires that you set a time limit, such as a month, and commit to tracking every cent that you spend during that month. It could be an eye-opening experience that will inspire you to cut frivolous spending.
7. 26 Paycheck Challenge
This challenge is perfect for those living on a small paycheck, which is many people. The challenge covers 26 pay periods. The first week you put $10 into your saving account. The second week you try to double that amount, or whatever you can. The challenge caps at $60, so it's easy to do with a smaller budget. By the end of the challenge, you could have $1,000 to add to your savings account.
8. Money Throwdown
You can do this money-saving challenge with friends or family. The idea is to see who can save the most money in a month. It would be best if you did this challenge with others who face similar budget challenges. Create clear rules about how the amount saved will be verified. Decide on the prize for the winner.
Bottom Line
These are just a few of the money-saving challenges helping people meet their financial goals. Each challenge enables you to develop a habit of saving money. Once the challenge is over, you'll find it easier to stick to your savings goals.