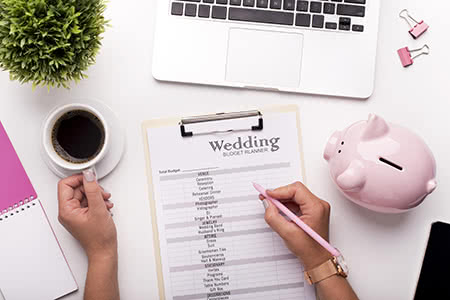 8 Things to Consider When Creating Your Wedding Budget
Congratulations! You've decided to get married, and now it is time to plan the wedding. How can you have the wedding of your dreams without going into debt? Keep these 8 things in mind as you create your budget, and you will have a plan to stay within your means.
Funds
How are you paying for your wedding? If someone else will be paying, ask them how much they will be willing to spend. If you are paying, look at your savings and consider ways you can raise money if you need it.
Priorities
What are the things you would regret not having for your wedding? Decide what you could not do without for your wedding and plan the rest of your budget with the remainder of your money.
Wedding Clothes
Will the bride be wearing her mother's or other relative's dress? Can you or a friend make the dress or tux? If you are going to buy your wedding clothes you will need to decide whether you want to shop online or in person, whether you want to look at used or new clothing, and whether you want designer clothing.
Venue
Where are you holding the ceremony? A backyard wedding can free up money for other aspects of the budget. A destination wedding will have travel and lodging fees for you and possibly any guests.
Will you use the same venue for the reception? Having two venues can cost over twice as much as using just one venue.
Decorations
Do you want simple or extravagant decorations? Take into account any arbors, flowers, tulle or burlap, candles or lanterns, signs, or other decorations you want to use. You should also consider any signs of unity you want to include in your ceremony such as unity candles, knots, or sand.
Vendors
What services do you need others to perform for your wedding? You will need an officiant, but do you also want a wedding planner, wedding director, photographer, videographer, musicians or DJ, caterer, and cake baker? Doing any of those jobs yourself or having friends and family members who are willing to donate or give discounts for their time and skills will help your budget.
Guests
How many people are you inviting? Each guest will need an invitation, seat, ceremony program, food, dinnerware, sendoff item, and favor as applicable.
Will you be paying for your guests' accommodations, or will they? If you have out-of-town guests, consider working with hotels to get group rates or ask local family and friends if they would be willing to host some of your guests.
Reception
What will be served at the reception? You could serve just cake, snacks and cake, or a full dinner and cake. Consider whether you want to serve alcohol as well. Your choices will affect the number of vendors and types of dinnerware needed.
Budgeting for a wedding can seem daunting, but it doesn't have to be stressful. Consider these 8 things, and you can create a budget that will be easy for you to follow and stay within.