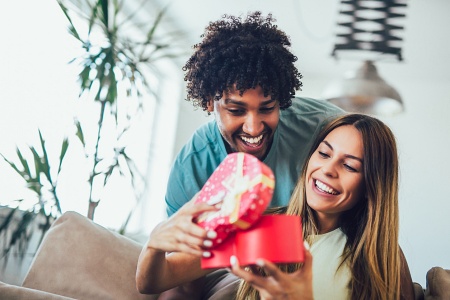 9 Affordable but Meaningful Gift Ideas for Valentine's Day
Valentine's Day is just around the corner, and you might be feeling stressed about how you can fit a gift or celebration into a tight budget. There are ways to express your appreciation without busting the budget or appearing cheap. Check out these nine affordable but meaningful gift ideas for Valentine's Day.
1. Bonobos Riviera Face Mask
Here's a Valentine's Day gift we never thought we would need. But in today's pandemic world, the face mask has become a necessity. Why not make it stylish? Bonobos is selling reusable face masks that are affordable and stylish. They come in packs of three, are two-ply, with a cotton lining and over-the-head elastic straps. They also have a pocket for storing an extra filter. The masks come in four styles and sell for $25.
2. Lip Sleeping Mask
Long-term mask-wearing is creating skin irritations for many wearers, including dry lips. Even someone who never thought about a moisturizing lip mask may appreciate this gift today. Laneige Lip Sleeping mask includes hyaluronic acid for hydration, Vitamin C, and antioxidants to prevent dryness. They come in five flavors and can be purchased directly from the company's website, Amazon, or Sephora. Prices range between $22 - $24.
3. Sur La Table Online Cooking Class
This gift could be great for both of you. After almost a year of cooking at home, you might be ready to shake things up a bit in the kitchen. For only $29, you can take a class and begin learning how to make great gourmet meals at home. You may never go out again.
4. Bath Bomb Gift Set
A bath is always a perfect way to relax. And after a day of remote work and distance learning, a bath could be a lifesaver. Bath bombs provide bubbles and color. You can find a gift set of 12 bath bombs on Amazon for $26.80.
5. Craft Beer Club Subscription
This one is a little more expensive, but a Craft Beer Club subscription will keep your loved one stocked with 12 or 24 beers every month. You select how frequently shipments arrive. Each delivery includes four different styles of beer from two US breweries. Every month the selection changes. A subscription costs $44.75
6. Personalized AirPods Case
An AirPods case is a perfect gift for someone who always loses his or her Airpods. The case can be customized with initials or their name and is available in four different colors. You can find the personalized AirPods case on Esty for $22.90.
7. Heart-Shaped Mini Waffle Maker
What better way to say I love than you than with heart-shaped waffles? Amazon.com is carrying heart-shaped mini waffle makers for $25.48.
8. Flavored Chocolate Truffles
Yes, chocolate is still in, but you don't have to spend a fortune. Nordstrom.com offers flavored chocolate truffles in a gift box for $30.00.
9. Aromatherapy Shoulder Wrap
A shoulder wrap from Nature's Approach will help ease shoulder muscles from all the extra time spent on digital devices today. It's a great way to relax too. The wrap warms up in the microwave, or you can place it in the freezer for a cooling down. The wrap emits a scent of blended spearmint, lavender, and chamomile to make it feel like a spa. You can find it on Amazon.com for $24.00.
Bottom Line
The most meaningful gifts are free. Spend time together. Make a simple meal at home and play your favorite games. Create a coupon book that can be redeemed for chores, massages, dinners, or trips to their favorite venues. These days, quiet, relaxing, stress-free time together is probably the most affordable and meaningful gift you can give.