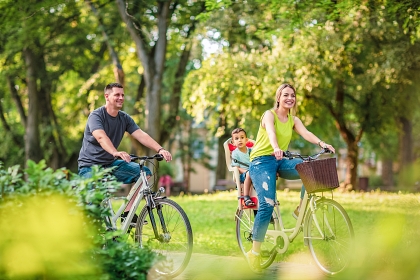 Top 10 Budget-Friendly Family Entertainment Ideas
The COVID-19 restrictions are gradually easing. Entertainment establishments are starting to reopen, with social distancing and other security measures in place to keep you safe. You can finally grab the family and go outside for some fun. But COVID-19 impacted our money too. Now more than ever, you need budget friendly family entertainment ideas.
Here are 10 fun things to do with the family without busting your budget.
Before you head out the door, logon to Groupon.com or Retailmenot.com to find all the venues that are offering special discounts for families. You can download coupons too.
1. Hiking in the Woods
This one is really budget friendly. You only need to buy gas, snacks and beverages, and food for a picnic. Purchase everything you need from your grocery store or discount markets, but not on the road. Most National Parks are open and are free right now. If the kids are old enough, you can organize contests such as finding the most variety of leaves, critters, or stones. End the hike with a picnic lunch.
2. Local Museums
Museums usually have family days when entry is free. You should check with your community calendar or go online to the museums' websites. There are museums dedicated to just about every subject from nature to journalism, so you are sure to find places to suit everyone's interests.
3. Kid-Friendly Restaurants
After a couple of months of eating meals at home, everyone is probably ready for a meal out. Restaurants such as I-Hop, Applebee's and Cici's Pizza are especially great for families. Most offer free meals on the menu for kids under a certain age and discounts for the older kids. Give free reign to the kids to pick out what they want while you relax.
4. Story Time at the Library
Among a list of budget friendly family entertainment ideas, the library is a natural. It is perfect for the entire family. The young ones can enjoy story hour, while you and the older kids check out the videos and audio books. Libraries also host movie nights and youth clubs. Most activities are free.
5. Outdoor Movie Night
You will need a movie projector for this activity which you can probably find at the library or neighbor. Invite the kids, bring inflatable mattresses or the floaters you use in the pool. Take a white sheet and anchor it between PVC pipes. Alternatively, find two trees close enough together for you to string the sheet between them. All you need now is lots of popcorn.
6. Neighborhood Bike Ride
If you do not have bikes, head to RentaBikeNow to find a list of bike rental shops near you. Typically, rentals are around $35 per day.
If your state or community is still on restrictions, there are many budget friendly family entertainment ideas that can be done while at home. Here are four ideas.
7. Go Camping in the Backyard
Set up tents and bring sleeping bags or heavy blankets and pillows. See who can find the most constellations or identify the most stars.
8. Movie Marathon
Make a movie marathon weekend. Some of the most popular movies have numerous sequels to keep you going for hours. Movie streaming makes it easy. Pirates of the Caribbean, Harry Potter and Star Wars are great options.
9. Baking
If you are ready for a bit of kitchen cleanup, organize a bake-off in your kitchen. Experiment with recipes or let the kids have fun and create their own recipes.
10. Scavenger Hunt
Select fun, unique, and easy to find items inside the house and/or in the yard. Take digital photos or write up a list of all the items. Give the kids the photos or list and send them off to find the items. Be sure to have some cool prizes for the winners.