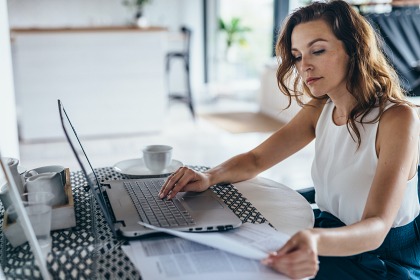 End-of-Year Financial Checklist: 5 Tasks to Complete
With the end of the year approaching, it's important to check-in and see how you've been managing your finances. This follow up will give you the insight needed to see how close you were to reaching your fiscal goals, as well as give you the much-needed understanding on how to plan for the upcoming year. Maybe you've made great progress saving for your child's education, or lapsed when paying down your own student debt, either way it's important to do a once-over so you can start the new year with an even better financial outlook.
Inspect Your Spending
Often times we're not really aware of where our money is going until we sit down and look at the numbers. Many people are surprised on how much they shell out for coffee, groceries, or clothes. This year especially, as spending habits have changed, it's a good idea to review what you've spent and where. Make a spreadsheet and track the categories where most of your finances have been going. If you've been tracking year to year, you can compare how things have been going. If you haven't been tracking your spending, 2021 will be a good time to start. Ask yourself where the money is going and if it was high or low priority cost. This simple step can move you in the right direction of using your money in a more fiscally sound way moving forward.
Disappearing Debt
Most people have some sort of debt whether it's school, cars, mortgages, or medically related. Debt is not new for most, but your progress on paying down that debt, and reviewing additional options for making those payments, is crucial. First you have to see if you've been consistent on your payments, and if not, ask yourself what changed. Finding patterns in terms of paying down your debt can make a big impact on future payments and spending habits. You may need to cut certain expenses on a temporary basis, so you're all caught up. You also have the option of consolidating your debt, but it's worth noting you should work with a financial advisor if you're unsure of which route to go.
Check Your Credit
It's important to check your credit to know how you look to lenders when you make any big investments for things like cars, rent, a loan, or when changing insurance carriers. One thing people don't realize is that when you check your credit, you can also see inconsistencies which can be signs of identity theft or financial errors that can be fixed to bring your credit up. There's a host of free services, or even your financial institution, that offer to let you check your credit score for free.
Brush Up on Benefits
Right now, financial institutions are adding more rewards and benefits to allot for change in people's spending and living situations. Because of this, it's important to check in to see if you're missing out on any rewards or benefits your debit and credit cards may now offer. You might get more perks on groceries or online shopping or have untapped payouts. It's always a good idea to check and see how these benefits have changed to benefit you.
Move the Money Around
Depending on your financial situation you may want to make some moves with your money. This might mean moving your money from a traditional IRA to a Roth IRA to take advantage of a lower tax bracket if you've lowered your income. This is also a good time to look at your assets and see where they are allocated. With the changing times, it may be a good idea to move your money in stocks, bonds, and cash investments into new, long-term investments. You'll want to check in with a tax advisor or your trusted financial advisor before your make the jump.
These five financial checklist items will help keep your figures moving in the right direction.