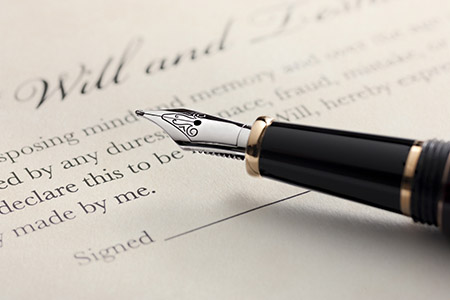 Estate Planning & Wills: What You Need to Know
Estate planning and wills may not be at the top of your bucket list. But, if you have a job and own any possessions, you need to learn about these crucial strategies that protect you and the ones you love.
Both estate planning and wills ensure that your beneficiaries handle your property according to your wishes following your death or if you become incapacitated. However, estate planning is a more comprehensive process that includes writing a will and other legal documents.
Estate Planning & Wills: What You Need to Know
What is Estate Planning?
Estate planning secures your assets during your life and after your death. With the assistance of an estate planning lawyer, you'll determine the legal directives you need to establish at this time in your life. However, in general, you'll probably want to prepare the following:
Financial Power of Attorney
There might be times when you're unable to make financial decisions yourself. A Financial Power of Attorney is a legal way to designate someone you trust to handle your financial affairs. The person you appoint has the power to make deposits, withdrawals, make business decisions, and undertake other actions related to your financial assets.
Limited Power of Attorney
You might want to limit how much power you assign to your legal representative by writing a Limited Power of Attorney. For instance, you might designate someone to sign all your investment portfolio documents or sell your home and other real estate.
Living Trusts: Revocable and Irrevocable
You can distribute portions of your estate to particular beneficiaries while you're still alive. A Revocable Living Trust is used to appoint a trustee to take over for you should you become incapacitated. Upon your death, your trustee is tasked with transferring your assets to your designated beneficiaries. A revocable living trust can be changed by you whenever conditions change.
Alternatively, you can set up an Irrevocable Living Trust, which operates the same as a revocable living trust. However, as the name implies, you can't alter it or revoke it.
Medical Care Directive
Also known as a Living Will, a medical care directive is a set of instructions regarding your medical treatment. It protects you and your family should you become incapacitated and unable to articulate your wishes.
Estate planning is not a static undertaking. As your life changes, so should your estate plan. However, even if your life doesn't change, you should still review your estate plan to ensure you are taking advantage of the latest state and federal laws.
Wills
If you're starting in life, you may not need all the documents highlighted above. Still, you should write a will regardless of how much money you earn or the property you possess.
Your will gives you control over what happens with your personal belongings after you pass away. It's the only way to ensure that the people or organizations you want to benefit from your things receive them.
For example:
What will happen with the money that you have in your accounts?
Who will receive your personal belongings, such as jewelry, artwork, car, and other assets?
If you have children, who do you want to be their guardian? And how will you ensure that your assets are used to provide for their care?
Your will eliminates family disputes and removes the need to go to court. For example, suppose you pass away without a will. In that case, questions regarding what to do with your possessions will be decided in probate court, which requires lawyers and money. Instead, with a will, the executor you appoint will carry out your instructions.
Bottom Line
Estate planning and wills not only protect you, but they protect your family from potential conflict during what will already be a stressful time for them. Be sure to work with a qualified attorney to ensure that you meet state and federal laws.