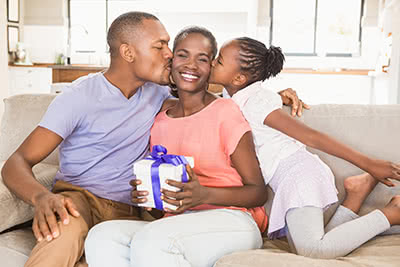 A Guide to Choosing the Perfect Mother's Day Gift for Your Mom or Wife
It may be April, but Mother's Day is just around the corner. It's going to be here before you know it. Have you thought about what you're going to get your mom for Mother's Day? Well, if you haven't, never fear. We have some gift ideas for just about any mom.
For the Mom Who Loves to Read
Does your mom love to read? One of the most popular books right now is Becoming by Michelle Obama. This book comes in many formats, including hardback, paperback, Kindle and audio versions.
If she's always traveling and has trouble deciding what book to take with her, why not get her a Kindle? There's the Kindle Paperwhite or a Kindle Fire. The Kindle Paperwhite is primarily made for eBooks, while the Kindle Fire has the ability to read eBooks, play games and watch movies. So many options!
For the Mom Who Loves to Relax
Do you have a mom who is always on the go? Does she need to slow down and relax? She used to 'Pamper' you, so why not pamper her with some spa products? Amazon has a lot of gift baskets full of spa products that come in all sizes and prices. Let your mom take some time for herself and relax.
Another option is to give her a gift certificate for a spa. If you are her daughter, why not make it a mother/daughter day that the two of you can spend together?
For the Mom Who Loves to Cook
If your mom loves cooking, why not give her something that will make cooking so much easier for her. If she doesn't have an Instant Pot yet, this is a gift that you should consider. There are so many things that she can make in this, and it can be used as a pressure cooker or a slow cooker. There are so many options that it's a gift she'll love!
For the Mom Who Loves Movies
Have a mom who loves movies? Why not help her stock up her movie collection? Mary Poppins Returns is coming out before Mother's Day. If she doesn't have the second Mama Mia movie, that would make a great movie to give her (fair warning, it's a tear jerker!). A Dog's Journey also comes out 5 days after Mother's Day. How perfect is that? You could buy her movie tickets and go with her to see it in her favorite movie theater. Don't forget a big thing of popcorn to share!
No matter what you do for Mother's Day, when the gift comes from your heart, she's going to love it. Think about the things that your mother loves and her hobbies. Chances are that you will come up with the perfect ideal all on your own.
We are always trying to find ways to help you save money. If you have any questions or need some advice, contact us. We're always ready to help you and show you easy ways that you can save money.