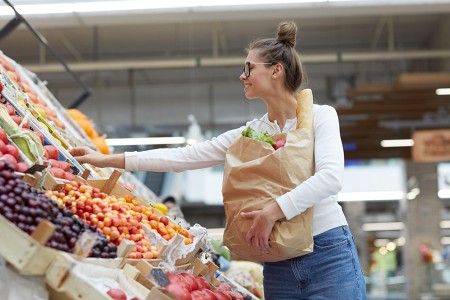 How To Create and Maintain Your Grocery Budget
Are you tired of spending a ton of money at the grocery store each week? Do you find yourself throwing away spoiled leftover meals occasionally? If so, then it's time to give your grocery budget a makeover.It doesn't have to be hard to pull off, and it requires self-discipline. You should write down a list of the meals that your family eats the most. From there, you will write down the ingredients for these recipes and label the ingredients by recipe title. Buy these ingredients in bulk when they go on sale, and you won't have to make repeated visits to the store. Here are other ways to save money on groceries.
Don't Buy Sales Items Just Because They're a Bargain
While fresh peppers are on sale for a certain week, it doesn't mean that you need to load up on them.  It's not a good idea to do this because you may buy too many of them and you might not use them all within a short period of time.  As a result, the peppers rot and you'll have to throw them away.  Before you stock up on sales items, ask yourself if they're staples that you and your family will eat regularly.  If not, then only buy a few of those items.
Repurpose Your Leftovers
Another way to maintain your grocery budget is to repurpose your leftovers.  If you made spaghetti and meatballs, you can take the extra spaghetti sauce and make meatball sandwiches with it.  If you have leftover vegetable soup, you can puree it and turn it into a spicy cream sauce for your fish recipe. By repurposing your leftovers, you save money on your grocery bill.
Purchase Generic Brands
Your grocery bill will be higher if you buy mostly name-brand groceries.  You can save money by switching over to generic brands. For example, generic canned vegetables taste just as good as your favorite name-brand versions.  The same is true for generic dried pasta, rice, milk, and toiletries.
Focus on Your Pantry Essentials
One reason why you spend a lot on groceries is that you don't have enough of your basic pantry supplies. Some basic pantry staples you should have include:
Eggs
Butter
Sugar
Flour
Vegetable Oil
Spaghetti
Rice
Canned vegetables
Canned meats
Designate A Day Of The Week for Meatless Meals
If there isn't a lot of meat in your pantry, you can designate one or two days for meatless meals.  By doing this, you keep yourself from going to the store just to buy meat when it's unnecessary.  Some good meatless meals to eat at home include vegetarian chili, grilled cheese and pepper sandwiches, bean burritos, and eggplant lasagna.
Consider Grocery Delivery
Another idea would be to get grocery delivery.  While grocery delivery costs a little more than going to the store in person, the convenience is worth the cost.  With this service, you choose mainly the things you need to buy, and this can save you money in the long run.
These tips will help you maintain an organized grocery budget and save money.