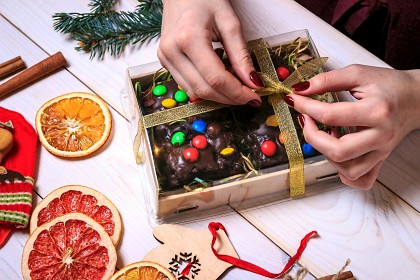 Share Holiday Joy with 9 Handmade Gifts from Your Heart
Many of us think of holiday shopping sprees and dashes through favorite stores and websites to find presents for the people we love. Of course, those can be fantastic gifts, but they can also stretch our budgets and even can feel impersonal. Gifts you make yourself can be cherished treasures that convey so much of your love, and you don't have to have artistic skills to make something special.
Anything with Photos
Perhaps the most personal and special of gifts is to make something with photos, especially if you use images of you and the person your gift is for. You can make copies of them and arrange a framed photo collage, laminate them into a placemat, or create something at one of the many websites where you can make photo-personalized items, from blankets and pillows to mugs and calendars.
Recipe Mix Jars
From chocolate chip cookies and chocolate-pecan pancakes to soup mixes and barbeque spice rubs, there are countless mixtures you can make and package in mason jars. If you layer everything neatly, the jars will look attractive, and you can dress them up with fancy ribbons and a bow. Tailor recipes to match a loved one's favorite flavors and you have a recipe for tasty gifts everyone will love.
No-Sew T-Shirt Totes
As we try to limit our disposable plastic consumption, most of us make an effort to use fewer plastic bags. You can help friends and family do so while making a special gift, too. There are various patterns online to take favorite t-shirts and turn them into stretchy, reusable tote bags. They're a fun way to give a second life to a t-shirt that's become too small, just isn't worn much anymore.
Hot Cocoa Kits
Few people don't enjoy a cozy mug of hot chocolate on a crisp, wintry day. It's easy to mix up some cocoa powder, sugar, and powdered milk to make a cocoa-mix that's ready to go anytime. You can personalize it for everyone on your list with added goodies such as mini marshmallows, chocolate chips, toffee chips, crushed peppermints, holiday sprinkles, or whatever else you like. Fill small mason jars with the mix and decorate with ribbons and a pretty tag to make your gift complete.
Gift Baskets
One of the easiest DIY presents to make for anyone is a gift basket. Choose a theme based on your loved one's interests and choose some special treats to fill it. Here are a few ideas to get you started.
Fisherman
Load a fishing creel with some lures, fishing line, Swedish fish, and some other fishing supplies.
Dog Lover
Fill a soft, cozy dog bed with some dog treats, chew toys, a new leash, some pet cleaning supplies, and a gift certificate for a dog grooming session.
Sports Fan
Start with a small cooler and add some appropriate sporting goods, whether baseballs and a mitt, or a football, and add a cap from a favorite team and some snacks. You might even throw in a couple of tickets for a local game.
Wine Enthusiast
Choose an attractive wine chiller bucket and tuck in a couple of nice bottles of wine, a corkscrew, a couple of nice wine glasses, and some nice crackers, a wine-themed hand-towel and a few tasty chocolates.
All you need to do to put together a thoughtful, handmade gift is focus on your loved one's favorite things and let them guide you to make something special.