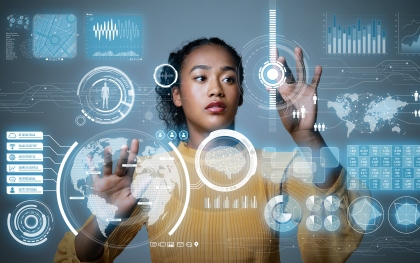 Top 7 High Demand Jobs of the Future
In 2020, it may be more important than ever to find a career track that is growing consistently. With society-wide changes brought on by technology in the twenty-first century, the job market will look considerably different a few years from now, and you may feel uncertain about these changes. Fortunately, analysts have predicted that certain fields such as medicine and technology will see stark increases in employment. For nurses and software developers, among other professionals, the future of work is looking as bright as ever. Here are 7 high-demand jobs that you very well may see more of in the future and may even want to pursue yourself.
1. Registered nurses and nurse practitioners
You may already know that nurses are in high demand, especially when taking into account an aging population. Between 2018 and 2028, it is expected that there will be 371,500 new positions for registered nurses (RNs), and 53,300 new positions for nurse practitioners (NPs). In 2019, the median annual earnings for NPs were $73,300 and $53,300 for RNs.
A nurse practitioner is an advanced practice registered nurse. This particular job in nursing requires a master's degree in nursing and certification, which indicates that the NP has received additional training in a specialized medical field. NPs have the authority to administer patient care at a more advanced level than registered nurses.
2. Systems software developers and application software developers
The tech sector is one of the biggest sources of burgeoning careers today. Software developers design the applications you use on a daily basis: your email, your web browser, your personal calendar, and so on, all the way down to the operating system itself on which applications are run. Software developers are employed in nearly every industry, and the job requires not only development of code but also the maintenance of it so that software runs smoothly, without bugs or glitches.
There are projected to be 42,600 new positions for systems software developers between 2018 and 2028, and 241,500 for applications software developers. In 2019, the median annual earnings for both types of software developers were $107,510.
3. Accountants
Accountants perform financial services by inspecting an institution's financial records, making it a suitable career path for people with an abundance of math skills as well as integrity. Since institutions constantly rely on accountants to keep track of expenses, accounting is also a field with dependable job security. Public accountants perform audits and consulting services for corporations, government organizations, and other institutions.
There are projected to be 90,700 new positions for accountants between 2018 and 2028. In 2019, the median annual earnings for accountants were $71,550. Jobs in accounting typically require a bachelor's degree.
4. Physical therapists
Physical therapists are employed in a vast array of medical situations. These can range from athletic injuries to neurological traumas and situations in which a person needs to adapt to an artificial limb. In addition to technical expertise, the career requires strong communication skills – educating the patient on their recovery program is one of the biggest parts of the job. The goal of a physical therapist is to help build or restore muscle strength and motor function in a patient in order to improve their standard of living.
Between 2018 and 2028, there are projected to be 54,200 new positions for physical therapists. In 2019, the median annual earnings for physical therapists were $89,440. A career in physical therapy typically requires a doctorate or a professional degree.
5. Sales
Incredibly important to most companies, sales representatives sell goods and services to businesses, government entities, and sometimes consumers. Successful sales reps are very knowledgeable of their respective industry and well-versed in the products they sell. They often visit trade shows and conferences, and may sell anything from soft drinks to specialized technologies to financial services. Enthusiasm, energy and a predilection for traveling are three qualities that sales reps commonly share.
There are projected to be 76,400 new positions for sales reps between 2018 and 2028. The median annual earnings for sales reps were $56,130 in 2019. Typically, the career requires only a high school diploma, making it one of the highest-paying jobs not requiring a college degree.
6. Operations managers
Managers come in many different specialized forms in a variety of fields – tech, marketing, construction, finance, etc. The general operations manager, however, is essential to any business. Operations managers oversee day-to-day functions of business at the middle level – hiring, budgeting, and guiding work teams, among other tasks – and direct business as a whole at the top level. Having said that, duties vary widely from company to company based on a company's needs. In 2019, Business Insider named "general and operations managers" as the third highest-paid professionals in the future.
There are projected to be 165,000 new positions for general and operations managers between 2018 and 2028. In 2019, the median annual earnings for general operations managers were $100,780. Typically, the career requires a bachelor's degree.
7. Management consultants
Management consultants, also known as management analysts, play a key role in the development of efficiency within companies. Great for anyone who likes to tackle problems from a variety of angles, management consulting requires curiosity and a readiness to analyze data for trends and patterns. After looking at company data, consultants typically give presentations to companies in order to inform them how they can make their business more efficient, robust, and productive in generating revenue.
Between 2018 and 2028, it is projected that there will be 118,300 new jobs in management consulting. The median annual earnings in 2019 were $85,260, and the career typically requires a bachelor's degree.
In conclusion
The labor market sometimes seems like it's changing at an astoundingly quick pace. With that in mind, you may wish to keep an eye on changing technologies as well as which fields appear to be lucrative in the near future. In the end, however, it's most important that you choose a career that suits your abilities and satisfies you personally. Trust yourself on this one.