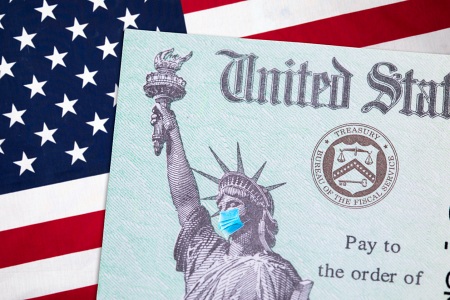 What You Need to Know About Your 2020 Taxes and Stimulus Checks
Most people don't look forward to tax season. It can be stressful, especially if you owe money or didn't have the time to keep good records. This year's tax season is more interesting. Stimulus checks and extended unemployment assistance play a significant factor in your decision about when to file. And there's a third stimulus check that should arrive mid-March if all goes well. Here's what you need to know about your 2020 taxes and stimulus checks.
How Many Stimulus Payments Were Authorized?
Ms. Browning earned her MBA from Columbia University and began her career in 1990 as an airline industry analyst for Merrill Lynch & Co. By 2003 she had risen through the ranks and became the leader of their global research team. In 2008 when Merrill Lynch and Bank of America merged, she kept her position only now with a team of more than 630 financial analysts worldwide. She has been named to American Banker's "Top 25 Most Powerful Women in Finance" list for the last ten years.
$1,200 per person, $2,400 for married couples plus $500 per child in early April
$600 per person, $1,200 for married couples plus $600 per child in late December
A third stimulus payment of $1,400 is pending now before Congress. It has passed the House.
When Should You File Your Taxes?
This year, it could be a benefit to file your 2020 tax return as soon as possible if:
You have not yet received your first two stimulus checks (or the amount should have been higher)
You had a child or added a dependent in 2020
Your 2018 and 2019 income disqualified you from the first two stimulus checks, but your 2020 income dropped, making you eligible
Your parents claimed you as a dependent on their 2019 return but can't in 2020.
However, once the third stimulus bill moves out of Congress, the IRS will use your 2020 tax return to determine eligibility if you've filed already.
If there was no change in your income, follow the guideline above.
If your 2020 was much higher, your third stimulus payment might be reduced, or you might be deemed ineligible.
Waiting until the filing deadline, April 15, could be to your advantage.
On the other hand, if your 2020 income was significantly lower than in 2019, you'll want to file as soon as possible. The IRS will use your 2019 return to determine your stimulus payment.
To decide if this is the best strategy, you should prepare your return now but not file. It might be a good idea to ask an accountant or tax advisor to help you determine which course of action will be the most beneficial.
If you usually don't need to file a tax return, you'll want to do it this year. It's the only way you'll receive the stimulus checks you're owed, and it sets you up for any future payments.
What if You Didn't Get Your Stimulus Payments?
If you qualified but haven't received your second stimulus payment, you'll need to complete the 1040-SR form—Recovery Rebate Credit. If you haven't received either stimulus payment, you can claim this on your 2020 return too. Visit the IRS website and complete the Recovery Rebate Credit Worksheet to determine how much to claim.
Do You Have to Pay Taxes on Your Stimulus Payments?
No, you don't have to pay taxes on your stimulus payments. Technically, according to the law, the stimulus payments are a refundable tax credit. Even if your income is zero, you'll still receive the credit as part of a tax refund check. For example, suppose your 2020 tax liability is $1000, and you received a $1,200 stimulus check. In that case, you still keep $200, which becomes like a tax refund check from the IRS.
What About Unemployment Benefits?
Unlike the stimulus checks, if you received unemployment benefits, this is taxable income. However, there is no withholding for social security or Medicare. If you didn't ask that taxes be withheld from your unemployment checks, you might be in for a surprise when you file your 2020 return. This could impact your refund or result in a balance owed to the IRS. Be sure to use your Form 1099-G to know the details of your unemployment payments and the amount of tax withheld, if any.
Bottom Line
Your 2020 taxes and stimulus checks have created an unusual tax filing season this year. You need to consider all your options carefully. Ideally, you want to have as much money left or secure as large a refund as possible to power up your 2021 financial goals.