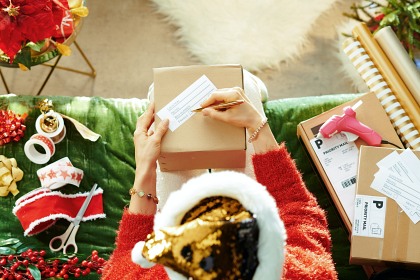 10 Tips for Sticking to a Holiday Budget
The holiday shopping season has begun. Maybe you already started. It is yet to be seen how much impact COVID-19 will have on your holiday shopping. But one thing is certain, unrestrained holiday spending can quickly put you into debt. You need to be careful and strategic to avoid the post-holiday credit card blues. Follow these 10 tips for sticking to a holiday budget.
1. Make a comprehensive list.
Make a list of everything you need for the holidays. Include gifts, decorations, special food and drinks, travel expenses, holiday clothing, and anything else that you normally need during the holiday season.
2. Do a home inventory.
Check around the house for decorations, gift wrap, holiday greeting cards, and other items left over from last year. If you have kids, send them on a scavenger hunt to collect all the holiday stuff. You'll save money by buying only what you need.
3. Sticking to a holiday budget.
Once you've confirmed your list, create the budget. Don't forget about shipping costs if you need to send presents to out-of-town relatives and friends.
Did you save for holiday spending this year? Whether the answer is yes or no, how much can you afford to spend on the items you've listed without going into debt? Before deciding, look at your current obligations. How much do you need to cover your monthly bills, including credit card and loan payments?
4. Set a gift spending limit.
Prioritize your list and determine how much you want to spend on each person. If your budget is limited, think about pooling gifts rather than giving to everyone in the family.
5. Start now.
The longer you wait, the harder it will be to stick to a holiday budget. There will be fewer bargains and your product choices might be limited too. Many retailers have already launched their pre-Black Friday and Cyber Monday specials. Sign up for email and IM alerts from your favorite retailers. You'll be the first to know about the latest discounts.
6. Use your list when you are shopping.
Shopping spontaneously is one way to overspend. Take your list and budget with you and stick to it. If you're shopping online, keep your list and budget next to you. If you purchase something that wasn't on the list, do a quick update to your budget so that you stay within your spending limits.
7. Compare prices before buying.
Be sure to use mobile apps when you're at the mall or shopping center. Apps make it easy to quickly scan barcodes and compare prices. If you find a lower price for the item you love, show it to the retailer. Most will match it. Online shopping tools can help you find sales, coupons and cash back offers that make it easier for you to stick to your budget.
8. Track your spending.
Keeping track of your spending is key to sticking to a holiday budget. Fintech apps can help you with this. Keep all receipts whether you use your credit card (sparingly) or pay with cash. When you return from shopping, add everything up, and plug it into your budget. You'll avoid going over the limits you set.
9. Make personalized gifts.
Personalized, hand-made gifts can be more appreciated than something you purchased from a retailer. It shows the recipient that you put thought into the gift. You don't need to be an artist. You can gift a service, such as babysitting if they have kids or a home-cooked meal.
10. Give gifts of time.
Parents and grandparents will appreciate it if you merely spend time with them during the holidays. They probably already have everything they need. It won't cost you anything, but for them, the gift of time is priceless.