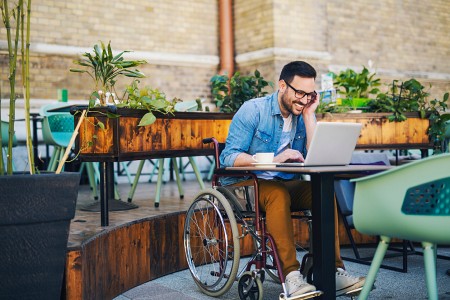 11 Work from Resources for People with Disabilities
According to the CDC, 61 million adults in America are living with a disability. A lot of people with disabilities know that working from home has been around for years and has given them back a feeling of independence and self-esteem. Unfortunately, too many people with disabilities do not know that this is a thing, and it definitely is.
If you're currently receiving Social Security or Social Security Disability benefits, and you're ready to return to work and gain back some of your independence, then continue reading. Below is a list of Work from Home resources and companies to help get started.
Resources for People with Disabilities
For People with Visual Impairments
Project Starfish - An employment platform that helps visually impaired people with job training and networking to be able to work from home in sales or social media marketing.
Business Enterprise Program - The program provides visually impaired people with priority access to training on how to run food service facilities in federal and state buildings.
Data Entry for People with Hearing Impairments
Do You Love to Talk and Socialize?
Use Your Writing Skills forTranscription Work.
You could be transcribing law enforcement, legal, interviews, or medical field files. If you are a typist, this could be for you.
BabbleType – You need no experience to work for this company, however, you must watch a short video and pass a test in order to be hired.
Castingwords - You must be at least 18 years of age, and open to a flexible work schedule. No experience is needed.
Scribie - Must understand American, British, Australian and Indian accents, and be fluent in spoken and written English.
Are You a Great Internet Researcher or Virtual Assistant?
Wonder – Virtual assistant company that hires researchers to answer all types of questions.
Fancy Hands - A platform that hires virtual assistants to assist customers with tasks such as research, making and canceling reservations and services, transcription, typing, spreadsheets, and other types of tasks. Assistants can sign on to work whenever they want.
What About Owning an Online Business?
If the jobs available online do not interest you, check out these ideas:
ECommerce – Starting an online business may, since you can manage it 100% from home.
Affiliate Marketing - Promote products on your website and earn a commission whenever your referral purchases something.
Teachers — Have You Ever Thought About Selling Your Lessons?
Survey Sites — Up to $15 Sign-up Bonuses