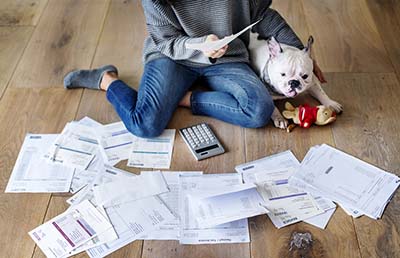 5 Worst Types of Debt That You Should Tackle First
If you're in the process of consolidating or paying off debts for the remainder of this year, there are certain debts that are worse than others. You should focus on these debts first because they eat away at your ability to save, invest, and build wealth. High-interest credit card debt is one of the worst kinds of debt for several reasons. The high interest that accumulates on these cards could cause you to take a longer time to pay off the balance. When it comes to high-interest credit card debt, pay more than the minimum balance. This shaves off hundreds of dollars. Here are the other worst types of debt you should focus on first.
Student Loan Debt
Student loan debt has been in the news a lot this year, and for good reasons. You cannot discharge student loan debt in a bankruptcy case, and if you have private student loans, you won't have the advantage of student loan forgiveness or a flexible repayment plan like federal student loans. Seek out a consolidation of your current student loans so that you can have a lower interest rate and monthly payment. You can even have the payment automatically deducted from your checking account so that you won't be late with your payment.
Tax Debts
Here is why tax debts are some of the worst types of debt. When there is unpaid tax debt, the IRS can garnish your wages, keep your refund, restrict your passport, charge you penalties, and take any assets you own. If you owe money in taxes, contact the IRS immediately to work out a payment plan with them. This is better than ignoring the debt and suffering harsh consequences.
Payday Loans
Payday loans are awful to have, and you want to tackle this debt when trying to get your finances together. When you don't repay your loan, the payday lender will take the postdated check you gave him and attempt to collect the payment. If he can't do so, he might roll over this loan and create a new term. This means more interest and fees are being charged. In addition, your bank will charge you an overdraft fee. Contact the payday lender as soon as possible to work out a plan. Then create an emergency fund so that you won't need to rely on these loans.
Car Loans
There are several negative consequences of not paying on your car loan. Your car could be repossessed, and this debt will also hurt your score. If there is any leftover debt on the car loan after it is repossessed, it could be reported to collections. If you want to avoid these situations, it is best to contact your lender and work out a flexible payment plan that best fits your situation.
Mortgage Debt
The main consequence of unpaid mortgage debt is that you will lose your home to foreclosure. If you're having financial difficulties, reach out to your lender and discuss your situation. Maybe the lender can work with you to come up with a different payment plan that will help you stay in your home.
When you consolidate or refinance these types of debt first, it becomes easier to pay off your smaller debts and achieve financial stability.