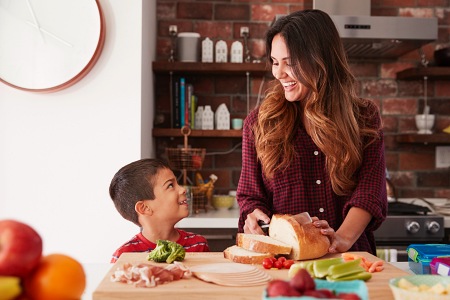 6 Practical Money Tips for Solo Breadwinners
Many families rely on a single earning adult for their entire budget. This is known as a one-income family or, in other words, a solo breadwinner. One income families must be cautious about planning ahead and cutting costs to ensure that the single income is enough to cover both current and future expenses. We know you likely have a careful plan for saving up a nest egg and you may be careful with your cost-effective insurance coverage. But there are also little everyday strategies that can help you make that primary income stretch.
As the solo breadwinner, you can implement a number of strategies to make sure your family is safe and comfortable at a lower cost.
Savings Accounts with Rewards
Growing a savings account is a smart move that becomes your financial safety net. However, not all savings accounts are built the same. Look for savings programs offered by banks that reward you for smart financial choices. For example, you may get a discount if your children make good grades or if you place in a minimum contribution each month. You may find savings accounts that provide discounts when used for groceries or medical expenses, or savings accounts that reward you for using a connected checking account. Make your savings account work for you beyond just holding your saved up money.
Join Loyalty Programs with Good Benefits
If you find brands with good prices and locations or delivery services, become a loyalty member. It usually costs nothing to sign up and you can start receiving systematic discounts from each company you join. Sign up for email notifications and check your Promotions email tab regularly when you're getting ready to shop again - just in case there's a discount waiting for you. Get to know your loyalty membership rewards and take advantage of them.
Browser Extensions that Compare Prices
Use web browser extensions to enhance your online shopping success. There are several extensions that will help you compare prices across multiple online marketplaces so that you don't accidentally overpay on your favorite platform. These extensions can also help you find sales, and some will even alert you when favorite items are briefly available at a lower price.
Browser Extensions that Try Coupon Codes
The other type of browser extension to use is a coupon widget. These extensions - like Honey as the most well-known example - collect all the coupon codes that users have entered, then spread them around so that everyone can try the coupons available. You won't always get a discount, but coupon code extensions can occasionally save you as much as %25 off things like school supplies and pizza orders.
Shopper Reward Apps and Programs
There are also third-party apps that will reward you for shopping in specific ways. Fetch Rewards, for example, can generate a small monthly income (up to $250 a month) if you take photos of your receipts including specific brand-name household items. These items include groceries and toilet paper, so anyone can get involved and benefit from the program.
Consolidate Bad Debt into a Single Loan
Finally, take care of your bad debt. If you have credit card debt, medical debt, or haunting loans in collections - consolidate. Turn all of this into a single low-interest, low-monthly-payment loan instead of paying stacking fees. Debt consolidation and other smart debt remediation strategies can seriously lower your financial stress.
As the solo breadwinner in a single-income family, a lot of financial responsibility lies on your shoulders. With these techniques, you can relieve some of that pressure with smart savings and ongoing discount programs.