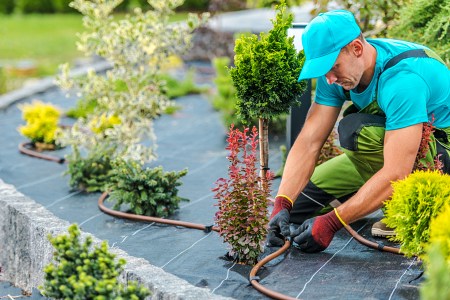 7 Affordable Ways to Transform Your Outdoor Space
As life slowly returns to normal, you can once again enjoy life with friends and family, and what better place to do it than your backyard or balcony. Now that summer has arrived, it's a good time to give your outdoor space a makeover. Yet, at the same time, your budget is tight. The good news is that you don't have to spend a small fortune. Here are seven affordable ways to transform your outdoor space. As a result, you'll have a beautiful place to relax and share with friends and family.
1. Clean and Make Repairs
This one might seem obvious, but it's one of the most affordable ways to give your patio or balcony a facelift. Sometimes the only thing you need to do to create a stunning makeover is to power clean your balcony floor or patio concrete. Then, take a look around and repair broken tiles, screens, and furniture. Once done, you're ready to move on to adding the finishing touches.
2. Container Gardening
One of the simplest ways to update your outdoor space is with potted plants. You can easily create an oasis of the most beautiful colors to transform a small balcony or spacious patio into paradise. To save money, skip the garden centers and visit DIY. They have easy-to-follow instructions to help you make colorful containers from corrugated plastic. You'll spend only a few dollars, and you'll infuse your containers with your personality.
3. Transform Your Outdoor Space With Paint
There's a lot you can do with a can of paint to transform your patio or backyard. Sometimes just a touchup is enough to make the place look new. Suppose you have multiple items outside, such as furniture and outdoor storage. In that case, you can paint everything the same color, including your deck or balcony floor. Or mix it up to coordinate with your flowers. You can create a meditation oasis by selecting cool, calming colors to inspire rejuvenation of the body and soul.
4. Toss Around Colorful Pillows and Rugs
Add pillows, throw rugs, and other furnishings from the discount stores to give some contrast to your paint colors. Use different sizes, textures and don't be afraid to experiment with colors and designs. Grab a few waterproof pillows, too, for those summer thunderstorms.
5. Recover Your Old Cushions
Do you already have pillows and cushions for your outdoor furniture? You can quickly update your colors and patterns by buying new covers for them. Ikea, H&M Home, and other stores have an extensive collection of pillow and cushion covers that fit any budget. In addition, you could purchase multiple sets, one for summer and one for fall.
6. Add an Outdoor Fire Bowl
The DIY outdoor fire bowl is an affordable way to transform your outdoor space, no matter the size. Even if you only have a balcony, you can make this substitute fire pit. You begin with a fireproof container, fill it with recycled glass chips and insert a can of alcohol-free gel fuel. Visit DIY for the details.
7. Transform Your Outdoor Space With Candles, Lanterns, and Solar-Powered Lamps
Sitting outside on your balcony or patio is a perfect way to unwind after a hectic day. Online and in-person retailers offer an affordable collection of lanterns, candles, and solar-powered lamps. You can coordinate colors and designs to match your furniture and flower collection. Be creative and string fairy lights around trees, potted plants, and other verticals in your outdoor space.
Bottom Line
There are many affordable ways to transform your outdoor space. As always, shop around for the best prices. If you're creative, you can do much of it yourself. DIY is a tremendous resource for ideas and instructions. Just adding lights, colors, and a few plants can quickly transform a drab space into an outdoor room you'll never want to leave.