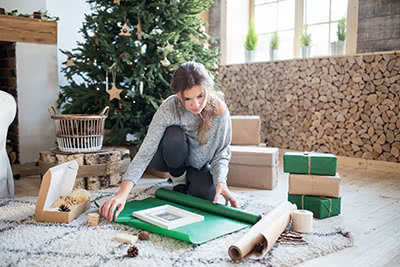 7 Holiday Budgeting Tips That Will Help You Save Money
According to research, a large proportion of Americans shell out, on average, $800 on gifts each holiday season. Equally, 37% of these holiday gift shoppers use their credit cards to finance their holiday spending.
Conversely, holiday spending is more manageable after you've set aside a specific amount of money for that particular purpose. On the contrary, placing your expenditure on credit cards will sooner rather than later catch up with you. And it's for that reason that preparing a budget should be at the top of your holiday planning agenda.
"Creating a budget in advance is an important facet of avoiding post-holiday debts and financial concerns."
Creating—and abiding by—a budget will not only help you stay in control of your financials but can also assist you in placing checks on spending. Let's take a look at a few pointers that guide a holiday budget creation process.
1. Plan in Advance
Fend off the last-minute dash to prepare a budget. Such a scrambling move will only serve one purpose—wreck your finances. Starting your plans early can go a long way in helping you avoid debt.
2. Be Realistic
Stay on track with your spending by creating a realistic budget. Although you might not have to set figures in stone, your outlay flexibility should be guided by your plan. Rather than having to either dip farther into your savings or go deep into extraneous credit card debts, choose to rethink/restructure your budget.
3. Work on a Holiday Fund
Avoiding the pull of the "holiday spirit" might prove to be a challenge. However, you should apply caution and restrain yourself from buying holiday gifts for the sake of it. More importantly, it's prudent to set up a savings account anticipating the holiday outflows. Periodic savings of small amounts make it relatively convenient to come up with finances to cover the entire holiday's shopping.
4. Stay on Track
Frequently review your budget. Indeed, if you feel that some items are putting an unnecessary strain on funds, consider making budgetary cuts. Sometimes, that may mean rearranging a costly dinner party to a potluck. Or else, skipping a movie theatre night and in its place, opting to watch the movie in the comforts of your home.
5. Sales... Sales... Sales...
Undoubtedly, you stand a better chance of saving money when you don't have to pay the full price. Take advantage of "Black Friday's" and "Cyber Mondays" to stockpile on holiday gifts. Else, keep a close eye on coupon codes. It's also not a bad idea to sign-up for newsletters that alert you in regard to upcoming sales events.
6. Trim Down the Shopping List
In case your finances are limiting, do not be averse to making tough choices. As such, reevaluate the gift recipients list and clamp on the numbers aiming at reducing the expenditure to a manageable amount. With that information, you should set the maximum amount of money you intend to spend on each person to keep spending in check.
Next, do the total cost estimates of the items on your list. And should you find that you're exceeding your budgetary provisions, go through the list again and make appropriate adjustments.
Preparing and sticking to a list helps you avoid purchasing items that you hadn't initially planned for, hence allowing you to follow the budget.
7. Prioritize
Holidays can be expensive. Bearing that in mind, it's advisable to breakdown and rank your expenditure according to scale of importance—before allocating corresponding funds. Also, be practical about the amounts of money you can afford to spend.
The Bottom Line
Although holiday spending can be overwhelming, you can curb your inclination to overspend by creating a budget. Subsequently, create a spending plan and confine yourself to it throughout this season. With a budget in hand, you're sure to enjoy your break without having to worry about incurring unsustainable debts.