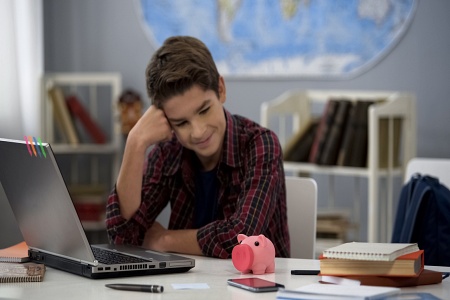 7 Tricks to Encourage Your Kids to Invest
Financial literacy is one of the most enduring gifts you can give to your kids. The money management skills you pass on now will help them be financially healthy in adulthood. Teaching about budgeting and saving and how to be a smart consumer is pretty straightforward. But how do you encourage your kids to invest? It's not as tangible as saving money on that item they've been wanting or watching their money grow in the bank savings account. Yet, at the same time, investing is one of the most potent ways to build future wealth.
Here are seven tricks to encourage your kids to invest.
1. Begin With the Basics
Before you start talking about investing, make sure your children understand the basics. Teach them about budgeting. Help them open a savings account. As they watch their money earn interest, your kids will begin to see how their money can grow.
2. Explore the Stock Market
The next step is to help them understand the basics of the stock market.
What are stocks?
What are bonds?
What does "stock market" mean?
A way to encourage your kids to invest is to let them imagine what it would be like to own a part of their favorite companies.
3. Use Books to Learn Investment Concepts Together
Children's books are great learning tools. Four kid-friendly investment-related books on Warren Buffet's list are:
Rock, Brock and the Savings Shock, written by Sheila Bair. This book covers elementary money matters.
Finance 101 for Kids, by Walter Andal. The book includes a great explanation of the stock market.
How to Turn $100 Into $1000, By James McKenna and Jeannine Glista covers saving, spending, and investing. It even includes a planning guide for how to become a millionaire.
Go! Stock! Go! A Stock Market Guide for Enterprising Children and Their Curious Parents, by Bennett Zimmerman, is appropriate for kids of all ages.
4. Use Games
Using games is a great way to encourage your kids to invest. They'll have fun while learning about investment concepts such as stocks, bonds, seed money, and markets.
iTrade and the Stock Market Simulator
The apps provide "traders" with $10,000 that they can use to invest in the market. Both apps teach about how to research stocks and simulate investment returns. iTrade is for the iPhone, and Stock Market Simulator runs on Android.
If you prefer to stay offline- try The Stock Exchange Game. It's like Monopoly, but about investing instead. Kids learn basic investing concepts, with the "winner" being the one able to retire early.
5. Let Them Pick Out Stocks
Another way to encourage your kids to invest is by letting them select stocks according to the companies or products they love. Older kids may want to pick out companies that align with their social responsibility positions.
6. Open Custodial Accounts
Once they have their list of favorite stocks, open custodial accounts for them at one of the brokerage houses, such as Fidelity, E*Trade, Stockpile, or Charles Schwab. Kid-friendly investment apps like Acorns and Greenlight help your kids track their favorite stocks.
7. Use Real-Time Events
Encourage your children to follow the financial news. Discuss economic events such as when the Dow Jones Industrial Average (explain what it is) drops. How will it impact their investment portfolio? Explain that market dips can be great opportunities to pick up stocks. They might decide to invest even more.
Bottom Line
In addition to the above, the best way to encourage your kids to invest is by example. Make your investments a part of the conversation. Share your successes and surprises. When they see the fun way you are focusing on your future, they'll want to be like you.