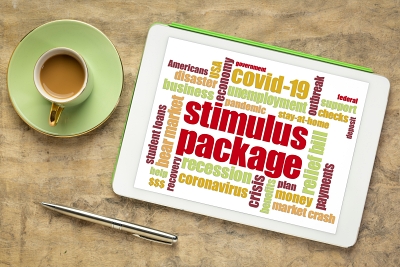 Do You Qualify for Coronavirus Stimulus Check?
The US government passed a large stimulus package to minimize the economic strain of the COVID-19 pandemic. One of the measures included in that package is a one-time cash payment of up to $1,200 for most Americans. In this article, we'll answer a few of the most common questions about that relief money.
Who Qualifies for the Stimulus Check?
Many Americans automatically qualify for the stimulus check, but the amount depends on income level. The basic breakdown is as follows:
$1,200 for single filers earning $75,000 or less.
$1,200 for head of household filers earning $112,500 or less.
$2,400 for married couples earning $150,000 or less per year and filing jointly.
Households with children will receive an extra $500 per child.
If your income is at or below these levels and you aren't in any of the excluded categories listed in the next section, then you qualify.
For Americans earning more than the income caps listed, you can still receive a check, but the amount will be reduced by $5 for every $100 above the income cap. For example, someone earning $80,000 would receive a check for $950. This means Americans earning above certain incomes will not qualify for any stimulus. The upper limits are as follows:
$99,000 for individuals
$136,500 for head of household filers
$198,000 for married couples filing jointly
Who Will Be Excluded?
Due to some loopholes and quirks in the way the stimulus package was set up, some Americans who would normally qualify based on income won't be getting a check. Those people include:
Dependents aged 17 and over don't qualify to receive their own check since they are dependents, but they also don't qualify as a "child" for the purpose of the $500 per child stimulus.
Adults 24 and under may not qualify if anybody claims them as a dependent, even if they live on their own.
Immigrants, whether documented or not, won't get a stimulus check unless they are already a permanent resident.
People who owe child support will have all or part of the stimulus check withheld to cover child support payments the same way paychecks can be garnished.
What Do I Need to Do to Claim My Check?
If you already filed your 2018 or 2019 tax return, you don't need to do anything except wait. The IRS will use your tax return to calculate how much you qualify for and how to send it to you. So please be careful of scams.
The IRS will not call you asking for information. If anybody calls you claiming to be from the IRS, they aren't. Any emails or website links asking you to provide private information shouldn't be trusted. Only give your information directly to the IRS on their official website.
If you didn't file taxes in 2018 or 2019 because you weren't required to or because you earned less than $12,200 for the year, then you can sign up to get your payment through the non-filer portal on the IRS website.
When Will My Check Arrive?
The short answer is sometime between now and September. Those who provided direct deposit information to the IRS are already starting to see the money in their account. Those without direct deposit will get their paper checks in order of need so the closer you are to the upper limit of the income cap, the longer it will take to receive your payment.
You can check the status of your payment at the IRS's Get My Payment portal.