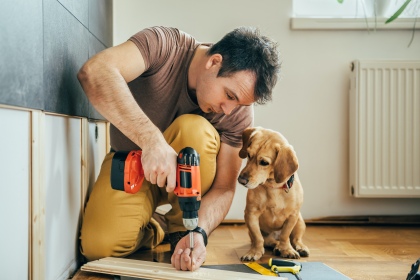 How to Plan and Budget for DIY Home Projects
Want to repaint your wall, landscape your yard, update your countertops, strip your floors, replace baseboards, or hang floating shelves? Go for it, but there's a catch. You may have the technical know-how to carry out home improvements, but budgeting a project properly is an important matter that deserves plenty of attention on its own.
The COVID-19 quarantine seems to be the perfect time to take on an exciting DIY (do-it-yourself) home improvement project, especially one that the homeowner has put off or postponed or a long time.
Although it very well may be the perfect time to pursue home improvement, any big project requires an affordable, detailed, and well-thought-out budget in order to be feasible. Here are a few things to keep in mind while planning and budgeting for DIY projects.
Can you do it yourself?
Think about what's within your skillset. If you want to take on a complex project like redoing the siding on your house or installing built-in furniture to increase your home's value, ask yourself this question: are you really capable of doing that project yourself, or would it be preferable to pay a professional to do it for you in an efficient and timely manner? If you decide to go down this route, use sites like Angie's List, HomeAdvisor, and Thumbtack to find out how much a professional would charge for the job and how long it would take. You may also want to postpone such projects for a later date due to stay-at-home orders – some tradesmen (electricians, plumbers, etc.) are not offering certain services right now.
Another reason to hire a pro might be that you don't have a special permit required to carry out a project such as removing load-bearing walls or making structural changes to your roof. For these tasks and others, such as converting your garage, you'll need to pay a professional with the required permit(s).
Do the appropriate research
It shouldn't need to be said that one should do plenty of research before pursuing a DIY project. Check YouTube for instructional videos and pay close attention to the methods used. Keep in mind that the quality of YouTube how-to videos can range from great to terrible, so it's best to stick to consistent and reliable channels like Apartment Therapy or This Old House.
Gather materials
Acquire any tools, equipment, or materials you may need. You can find bargain materials at lumberyards and salvage stores. Rent or borrow expensive materials that you will only need to use once.
Make the budget
Carefully track the project's total cost – add up the price of every material involved, plus additional overage (10%-15%) to cover unforeseen extra expenses. You can do this easily and efficiently by making a spreadsheet.
Then, review your monthly budget and see if the project can be afforded. Considering we're currently in a recession, it might be best to avoid going into debt or using any emergency funds you may have in order to complete the project.
In conclusion
Whether you want to apply wallpaper or replace cabinet doors, apply caulking and weather stripping or install light fixtures, there are plenty of options and methods for home improvement. All it takes is careful research, planning, and one or more pairs of steady hands to make your home look better than ever.