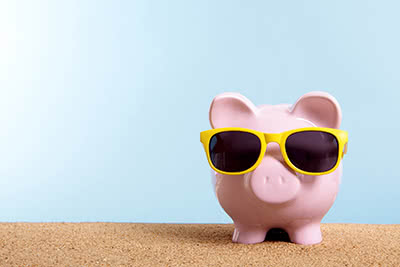 5 Easy Solutions to Organize your Finances this Summer
Summer often brings with it a sense of freedom and relaxation, but unfortunately, you can never afford to completely relax on your finances. However, that doesn't mean that your summer has to be shadowed by debt and financial troubles. Save more time to enjoy with your family by organizing your finances with one of these easy solutions.
1. Get Budgeting Software
In our world of technology, hundreds of financial programs exist to help you keep your life on track. Decide whether you want a program that you use on your computer, your phone, or both, and then see which options are available. It will take some time to enter your information accurately. But after that, the software will do all of the hard work for you, allowing you to see your finances at a glance whenever you want. If you need some ideas, Shelley Elmblad at The Balance has a great list of 10 amazing budgeting programs to get you started.
2. Review Your Finances Weekly
A weekly financial review may sound intimidating and, quite frankly, boring, but it is well worth your time. As Apartment Therapy points out, spending just 15 to 30 minutes a week on your finances ensures that you don't miss any bill payments that cause late fees. It also lets you know if you overspent in any budgeted area. If once a week is more than you can handle timewise, then do it no less than once a month. You will not regret it.
3. Pay Bills Immediately
Paying your bills the day you receive them is often as simple as setting up automatic payments online. Investopedia recommends immediately paying any bills that come in as long as you have money to do so in your account, or as soon as that money comes in to avoid overdraft fees. Additionally, pay attention to paper statements that you usually receive online, and double-check whether it's a duplicate or if you have another payment to take care of.
4. Organize Paper Files
Even in an internet-run world, you still have to deal with important information on paper. No matter how big or small your stack of financial documents is, create a reliable and organized filing system to keep them in order. Teresa Mears has some great advice on which documents to save. She also points out that you can even keep files in a shoe box if you can't afford a filing cabinet. Additionally, you can should this storage to keep backup files of anything you have stored electronically.
5. Create Financial Reminders
Even with a weekly review--or especially if you only do a monthly one--you need reminders on upcoming payments. Apartment Therapy cautions that missing payments is just another bad opportunity for late fees. Additionally, you don't want to see a $0 in your bank account because you didn't plan for all of your bills coming due the same week. Financial reminders will keep you aware of when you get paid and when you have upcoming payments. You can easily do this through your phone's calendar, but many software apps will automatically send you reminders for future payments. Find the method that works for you, and use those reminders to keep a balance between when your income comes in and when it goes out.
It's not hard to stay on top of your finances if you keep up with them a little at a time. Invest some time today into setting yourself up for financial success this summer and give yourself the breathing room to enjoy the extra time with your family.