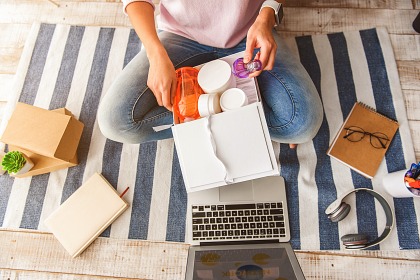 Save More Money, Have More Fun with 9 Subscription Boxes for Your Whole Family
It's easy to stop in a store for a couple of essentials and come out with a full cart, or to run out of something you need and pay a lot more to get it at a corner store. Subscription boxes can save you money (and time!) and make it fun, too. We're sure you've heard about popular subscription boxes for snacks and beauty products, but did you know they're only the tip of the iceberg?
How Can You Save with Subscription Boxes?
The trick with subscription boxes is to choose those that include the types of products you already use regularly. Companies who offer these boxes generally focus on a specific niche, so they can buy in bulk and pass those savings on to you. Many boxes offer the opportunity to try out a wide variety of products you might not otherwise purchase in full-size.
Boxes should supply products you'd be buying anyway so you're not spending extra
Prices should be at or below what you'd pay if you went shopping yourself for similar quality items
Delivery schedules should be flexible enough to meet your needs
You should be able to cancel easily and without paying excess fees
Best value boxes should let you try one out at a discounted rate before committing to a subscription
Health & Beauty Boxes
Never run out of lots of your most essential beauty and grooming products by having them delivered on your schedule. You can try out a variety of makeup, lotion, and other samples.
Dollar Shave Club
Do you resent the cost of razors but hate the cheap disposables? With Dollar Shave Club, You choose a starter kit then can select from a range of blades for it from basic twin blades to fancy 6-blade ultra-close cartridges. The standard plan sends 4 cartridges a month, but you can adjust that and add items like shaving cream, soap, moisturizer and other face and body care products.
Billie Shaving
Billie offers the same type of subscription box for women. Starter kits feature the soft, grippable Billie handle, a magic shower mount, and two blades. Boxes come once a month or on demand and include replacement blades, and you can add other shower and beauty products, too.
BirchBox
One of the first companies to offer a subscription box, Birchbox sends you monthly samples of a variety of health and beauty products based upon your skin type, age, beauty regimen, and other preferences. It's a fantastic way to sample a huge range of products.
Walmart Beauty Box
For products at a steep discount, the Walmart Beauty Box sends out product samples based on your preferences. They also include coupons for future purchases of larger sizes of included items.
Food & Cooking
If you find yourself spending too much on takeout, delivery, or convenience foods, a cooking box may be right up your alley. Snack boxes, too, can offer measured portions, in individual packages for far less than in other store, or can let you sample snacks from around the world without the expense of travel or a trip to an international grocery if there's not one in your neighborhood.
Hello Fresh
With a Hello Fresh subscription, you'll get a customized box each week (don't worry you can skip weeks, too!) based on your food preferences (including meat & veggies, vegetarian, family-friendly, low-cal, and time-savers) and the number of people you want to feed. Ingredients are pre-measured and step-by-step ingredients are provided. All delivered to your door, ready to go.
Blue Apron
Blue Apron brings you 2- and 4-serving meal kits with traditional, vegetarian, health-conscious, low-calorie, and other specialty menu options. No need to worry about what to make for dinner, it's delivered to you each week.
Snack Crate
Offering an amazing array of delicious and unusual snacks from around the world, each Snack Crate features sweet, salty, crunchy and other popular snacks from different countries.
Kids
Sometimes, having kids feels like an endless list of requests for toys, games, apps, devices, and Amazon orders to satisfy the "I'm bored!" complaints. Add the anticipation of each month's delivery and you have a winner.
Kiwi Crates
Kiwi Co. makes a variety of options to keep kids building, creating, and happily entertained for hours while they learn STEAM skills.
Little Passports
Little Passports take kids on an educational world tour where they learn about different countries or do science experiments to explore the world close to them. These are some general examples, but there are likely subscription boxes to meet whatever your family's specific interests and needs are.