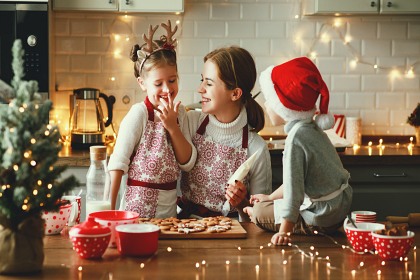 Tips to Enjoy the Holiday Season with Your Family
The holiday season: it can be the best of times. However, time spent with family, shopping, and having the kids home from school can make the holidays stressful. If stress and anxiety have clouded your ability to enjoy the season, it is time to make a change. This year, strive for realistic instead of perfect, manage your stress, and plan ahead to make this holiday one you will enjoy!
Don't Put Too Much Pressure on the Occasion, or Yourself
While it is understandable to hope for the perfect snow globe holiday, to expect it will likely result in disappointment. Keep your sights set for a nice holiday but don't set yourself up for a letdown by striving for perfection.
Family Pressure and Forgiveness
When families gather, old tensions, family dynamics, and pressure can resurface. Remember to stay true to who you are and that a holiday cannot erase what has happened in the past. Deciding to forgive and let go of anger is difficult. However, forgiveness can lead to reduced feelings of stress, anxiety, and hostility, a stronger immune system, healthier relationships, and ultimately a happier and healthier time spent with family.
The Perfect Gift
In addition to familial pressure, gift-giving may cause stress. Whether that be because of past debts, societal pressure, or something else, the anxiety you feel is real. Shopping for loved ones is another opportunity to take the pressure off of yourself. Instead of spending elaborately, consider thoughtful handmade gifts, plan and gift a socially distanced outing to spend time together, or consider drawing names in a family gift exchange. Whatever you decide, make sure to set a budget and stick to it. This will help you stay on track to accomplish your financial goals while enjoying the holiday season.
Indulge in Traditions that Satisfy You
This year ask yourself what traditions you truly love. Is it decorating your house extensively or does keeping it simple fit your lifestyle better? Remember that it is okay to say no or change things up. With the kids home from school and time off of work on the horizon plan and participate in activities you will enjoy.
The Holiday Meal
Depending on the size of your family gathering, the holiday meal may seem more like a chore than a time-honored tradition. Splitting up the responsibilities by making the meal a potluck may be a fun way to reduce stress and the number of leftovers in your fridge. Pre-assigning tasks like table decorations and clean-up can help involve the whole family and take some pressure off the chef. Younger children may enjoy being included in preparation tasks which is good skill building for as they get older. Another tip for feeling your best this holiday: eating healthy. Swap heavy appetizers for veggie trays and keep the casseroles to a minimum.