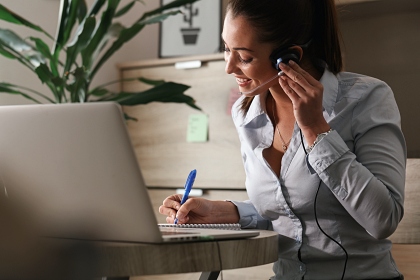 Top 7 Most In-Demand Jobs Right Now
To say that it's been a rocky year is an understatement. Millions of Americans lost their jobs or were temporarily without income. The encouraging news is that even though COVID-19 is still with us, the economy is improving. The proof is that one of the most in-demand jobs right now is in the retail sector, even though this sector was the most impacted by the COVID-19 pandemic.
If you're looking to make a career change or just beginning to think about a career path, check out these seven most in-demand jobs right now.
1. Retail Associate
A retail associate is the face of the brand they work for. As stores begin to reopen, retail associates will be relied on to put returning shoppers at ease. They'll explain the changes that have been made to make the premises coronavirus safe. Many stores have pivoted to online ordering and delivery. Retail associates will help customers select the best items for their needs and ensure that the entire process from ordering to delivery runs smoothly. You don't need a specific degree to qualify as a retail associate.
2. Tax Associate
In response to the COVID-19 pandemic, the CARES Act required all states to provide 13 additional weeks of unemployment benefits. In states with high unemployment, this would be followed by funds under the Extended Benefits program for up to 13 or 20 weeks depending on state laws. When you exhausted funds from the extended coverage under the Pandemic Emergency Unemployment Compensation (PEUC) program, you could still receive benefits under the Pandemic Unemployment Assistance (PUA) program. Regardless of where you live, you would expect to receive unemployment coverage for a total of 39 weeks.
3. Cloud Engineer
Cloud Engineer is another in-demand job right now, most likely due to the spike in remote work. Reliance on the internet for zoom meetings and e-learning has increased exponentially. The system is overtaxed and can easily crash. Companies and employees want to know they can trust the cloud services they use. You'll need previous experience in computer technology, software development, or data system management.
4. Service Associate
People across the spectrum have a lot more questions and worries today. The demand for service associates has spiked. If you have good listening skills and enjoy working with people, a career as a service associate could be perfect. Service associates interact with customers over the phone, internet, or in person. They handle complaints, questions, and play a vital role in customer relations.
5. Sales Advisor
Sales advisors serve as consultants to companies. Their job is to help the company meet their sales targets. Companies rely on sales advisors to analyze their sales department performance and develop and implement strategies to increase product sales.
6. Home Health Aide
The senior population is growing. And even though they have increasing need for assistance, they prefer to stay home. These realities have caused an increase in the demand for home health aides. As a home health aide, you help clients with basic tasks such as personal hygiene, getting dressed, and exercising. You might help them keep track of important appointments, as well as ensure that their daily medications are taken. Home health aides work in coordination with medical professionals to design and implement a daily care plan that meets the client's needs. You don't need a college degree, but most home health agencies require you to complete a certification course.
7. Automotive Technician
Automotive technicians inspect, repair, and maintain cars, trucks, and other vehicles. Today, automotive technicians must be proficient in sophisticated, high-technology diagnostic equipment. In addition to servicing vehicles, automotive technicians must clearly explain to customers what repairs are needed and why. They need to develop trust with customers and provide outstanding customer service.
Bottom Line
It's a chaotic time, but it's also a great time to start something new. Hopefully, this list of most in-demand jobs right now will inspire you.