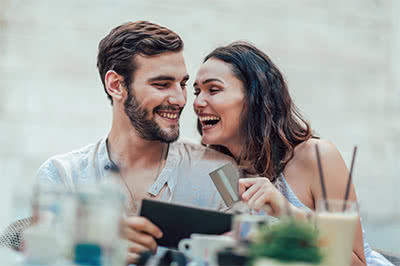 Which Rewards Card Will You Choose?
So you're about to take the big plunge and sign up for a credit card, but you're not sure which one to get. Do you go for the card with the cool logo on the front? Or how about the card that every store on the western frontier is sure to take? There are a lot of different choices out there when it comes to choosing a credit card, and it's a big decision. One of the biggest factors to consider is what rewards you would use the most, and which cards have them.
Here are 4 credit cards that offer the best rewards for you.
Chase Sapphire Preferred Card
Do you love traveling to exotic locations? Enjoy eating out with friends and family? If so, the Chase Sapphire Preferred card would be a good choice for you. Chase offers 2x points when you travel and eat out. And let's face it, even if your traveling includes visiting sights in your own state, that's something almost everyone enjoys doing. There are no annual fees for the first year and after that, it's $95. The intro APR is 2.9% but this goes up to 18.24% - 25.24% after 12 months. You are also eligible for 50,000 bonus points if you spend $4000 in the first three months.
Bank of America Cash Rewards Card
Bank of America allows for more flexibility and say in how you earn points with the Cash Rewards Card, which is incredibly refreshing. You can choose from the following categories and pick which one you want to earn 3% cash back on: dining, drug stores, online shopping, travel, gas, or home improvement/furnishings. Those who shop more in one category than another will find this exciting. It's the perfect way to really rack up on points in the areas you shop in most. You get 2% cash back at grocery and wholesale stores, as well as 1% on all your other purchases. There's no annual fee, and you get a $150 cash rewards bonus after spending $500 within 90 days of opening your account. This is probably a good choice for people who are looking for a card to use in their everyday life.
Wells Fargo Propel American Express Card
This card is probably more geared towards someone who is on the go in the big city or someone who loves traveling extensively, although that is ultimately for you to decide! Wells Fargo offers 3x points on things like transits, rideshares, gas, eating out, dining in, flights, homestays, car rentals, and streaming services. Since most everyone loves streaming music, movies, and even audiobooks, this can be an enticing incentive. There's no annual fee for this card, and if you spend $3000 in the first 3 months, you earn 30,000 bonus points.
Discover it Cash Back
You'll earn 5% cash back with this card, but the categories change each quarter. For those who don't like the same old, same old all the time, this will be a relief. Discover offers a calendar so that you know what categories you'll earn cash back without having to guess. Some of the categories are gas stations, Amazon.com, grocery stores, and much more. Better yet, your cash back never expires! You can also view your Fico score for free.
There are tons of options out there for what credit card you choose, and a little research will go a long way towards helping you opt for the right one. For more sound financial advice, contact Atlas Debt Relief today!